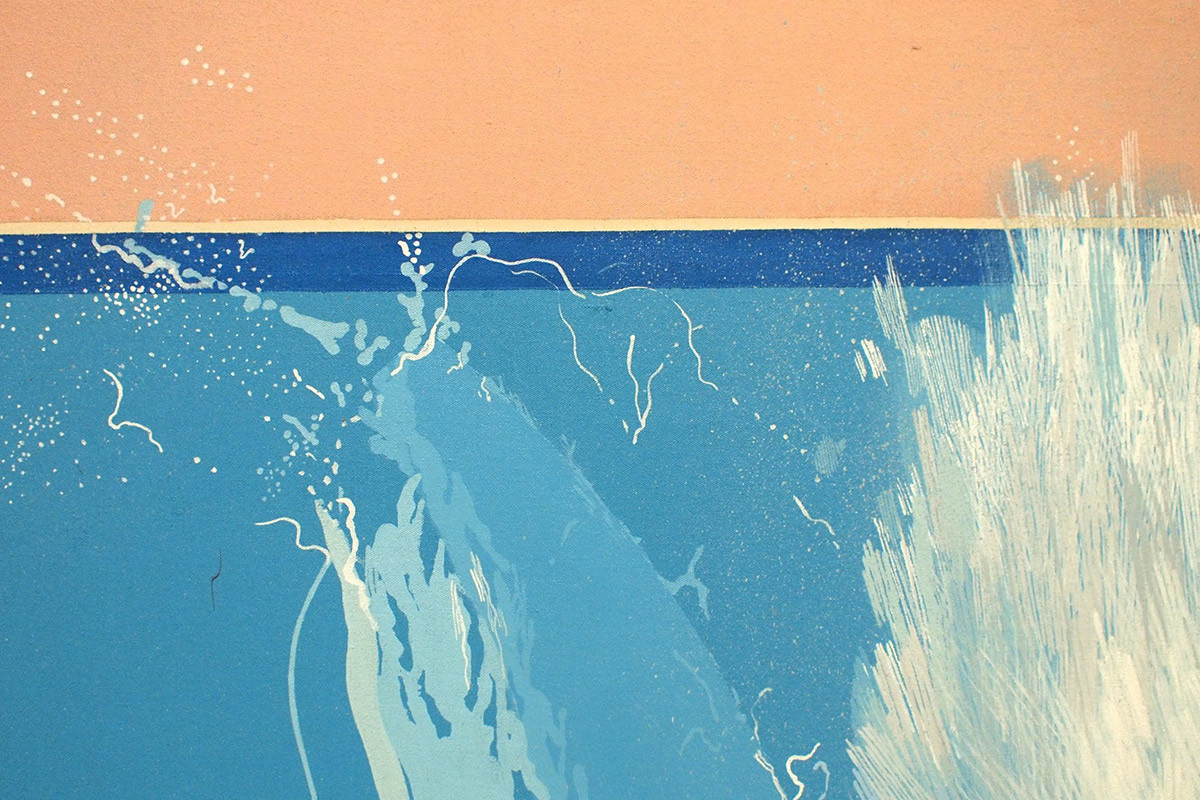 A Bigger Splash
August 11, 2018
Throughout the 20th century, the swimming pool has represented the apotheosis of the stylish American good life. Consider Esther Williams captured in the throes of one of her iconic swan dives, the supine luxury of Slim Aarons' Palm Springs photographs or the seminal artworks of British transplant David Hockney. According to Hockney, "water in swimming pools changes its look more than any other form."
David Hockney, 'A Bigger Splash' (1967)
David Hockney, 'Sunbather' (1966)
Hockney has been famously infatuated with private swimming pools for much of his career. The more time the English artist spent in his adopted home of Los Angeles, the more that pools appeared in his work. Hockney saw them as the ultimate expression of the sex charged California good life, reflected in works such as Peter Getting Out of Nick's Pool (1966), Sunbather (1966), and the indelible A Bigger Splash (1967). It's not surprising that Hockney eventually viewed the pool itself as a canvas - in 1988 he left his imprimatur on the pool of the Hollywood Roosevelt Hotel, painting a profusion of dark blue crescents that form a mesmerizing underwater pattern.
Pablo Picasso, Pool of Villa El Martinete (1961)
Hockney is far from alone in his aquatic obsessions: some 27 years before Hockney's Hollywood masterstroke, Pablo Picasso lent his surrealist signature to the pool of Villa El Martinete, part of the private residence of the artist's friend flamenco dancer Antonio Ruiz Soler. The work and villa remains very much intact to this day. Pools and and their enigmatic and often seductive allure have also been captured by photographers such as Jacques Henri Lartigue, Bruce Weber and Alfred Stieglitz, who have trained their lenses on these shimmering entities and their invariably happy inhabitants.
Rafael De Cardenas, Pool Pavillion (2017)
In recent years, the swimming pool has become a site of exploration for a new generation of designers and artists. James Turrell, the acclaimed light artist, has created site specific pool installations for clients such as Tracey Emin. Swiss conceptual artist Sylvie Fleury lavished a granite pool in Austria with words and phrases and New York designer Rafael de Cardenas elevated a standard pool pavilion into an artful statement, which includes two intertwined waterslides, a dramatic skylight and quartzite lined pool.
It only takes a brief scroll on Instagram to be reminded that the swimming pool - as cultural emblem and nexus of 21st century competitive leisure - will not dry out any time soon. Rest assured that the ubiquitous pneumatic pool tchotchkes may eventually go out of fashion, but pools themselves will remain eternal.
David Alhadeff, founder of The Future Perfect, at Casa Perfect. Photo courtesy of Lala Magazine.