Beverly Hills Bonsai: Jonathan Cross x Ryan Neil
May 14, 2018
California and Japan have always enjoyed a kind of aesthetic love affair and the latest collaboration on view at The Future Perfect's residential Los Angeles gallery space, Casa Perfect, continues that tradition. The first collaboration between ceramic artist Jonathan Cross and bonsai master Ryan Neil blends the ethereal with the earthly with the two artists exploring the cross-pollination of traditional living sculpture with physical ceramic sculpture.
The series, which features one-of-a-kind creations, allows the demarcation between plant and vessel to almost disappear, marrying Neil's mesmerizing living sculptures with the rustic geometry of Cross' celebrated work in ceramic. "You truly are meshing living sculpture with physical ceramic sculpture and really touching on aspects of compatibility in the aesthetic of the two mediums," says Neil of Portland based Bonsai Mirai.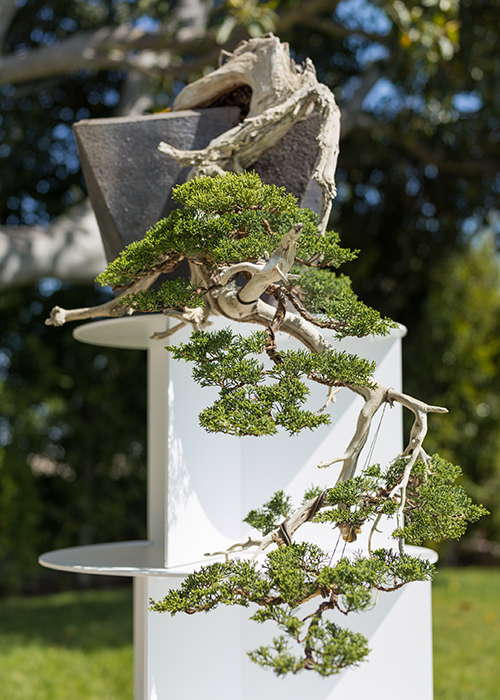 "This is groundbreaking as far as bonsai as an artform is concerned – beyond anything that's ever been done before,"
According to Neil, this type of collaboration hasn't been achieved before in the long history of Bonsai cultivation. "This is groundbreaking as far as bonsai as an artform is concerned – beyond anything that's ever been done before," he says. " just the richness of all of those elements being capable of being spoken to, explored, and expressed in each composition adds a layer of complexity to the ceramic body as well as to the tree that I doubt either of them has ever had in any sort of artistic collaboration to date."
The two artists, who have worked across a number of mediums over their careers, are clearly well-matched. Says Cross: "I like to say that my work is intuitive and not really preplanned. In the studio my intuition is informed by my subconscious which I curate by the books I read, [the] shows I watch and art that I appreciate."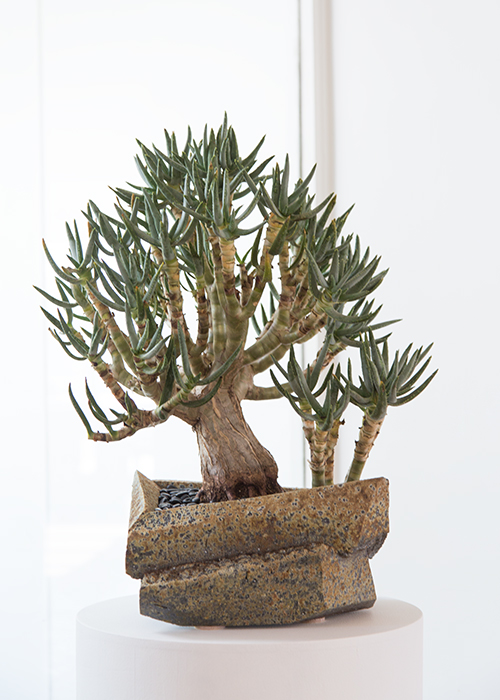 Each plant is sui generis, ranging in scale and complexity, leading Cross and Neil to develop an intricate working relationship to achieve the most suitable minimalist vessel. Some play with verticality, allowing a tree's winding leaves to cascade down; others mirror the plants ancient contours, with primitive forms that give the appearance that the tree and the vessel have been fused by time. According to Cross, that was the ultimate intention. "I feel the pressure of doing great things to make a bold statement and work with Ryan to push the boundaries of bonsai," he explained. "In that process I hope that we develop something more unique, regional, beautiful and refreshing."
Photography by Arthur Hitchcock.