Finding Scarpa
April 15, 2018
It was once said, by none other than Phillip Johnson, that Italian architect Carlo Scarpa had the ability to "make poetry out of the smallest rod or stone." A master of proportion and detail, Scarpa, who worked in glass, furniture and buildings, offered a quiet but prescient vision that only seems to grow in influence more than forty years since his death.
Scarpa was Venetian in his bones. Born in Serenissima in 1906, he studied architecture at the Academy of Fine Arts and graduated from the Accademia. From the outset, the architect developed a reputation as an outlier. After an apprenticeship with architect Francesco Rinaldo, Scarpa went on to work as a glass designer at venerable Murano producer Venini. Here, he developed his inimitable ability to synergize tradition with innovation, honing a bold but nuanced aesthetic that would define his career in the decades to follow. Scarpa served as the company's artistic director until 1946 and the objects and glassware he designed during that era are sold and much-coveted today.
The Italian pavilion courtyard, Venice Biennale, 1951-52.
By the early 1950s Scarpa began focusing on architecture, creating several outstanding structures including the sculpture garden and Venezuelan Pavilion for the 26th Venice Biennial. Many of Scarpa's subsequent commissions involved reinterpretations or renovations of existing buildings. The architect lent a brilliantly modern eye to a number of Italy's venerable institutions (an approach that was rare for the time, but commonplace today).
Olivetti showroom in Vence, 1957-1958.
In 1952, Scarpa was tasked with the renovation of the Correr Museum, the premier institution for Venetian art and history. At the Galleria dell'Accademia, a delicate intervention created an entirely new viewing area, allowing visitors to behold the ancient art in an entirely new light. A commission for typewriter company Olivetti spawned one of Scarpa's most iconic designs. There, marble staircases float and the open-plan space reveals a mastery of light, material and space.
These principles also distinguish Scarpa's furniture designs. Icons such as the 'Cornaro' Sofa for Simon (1973) and his monumental brass and granite tables project restraint when taken against the out there aesthetic of the era. The 618 Chair, designed for Meritalia in 1964, eschews ornamentation with a focus on elegant purity.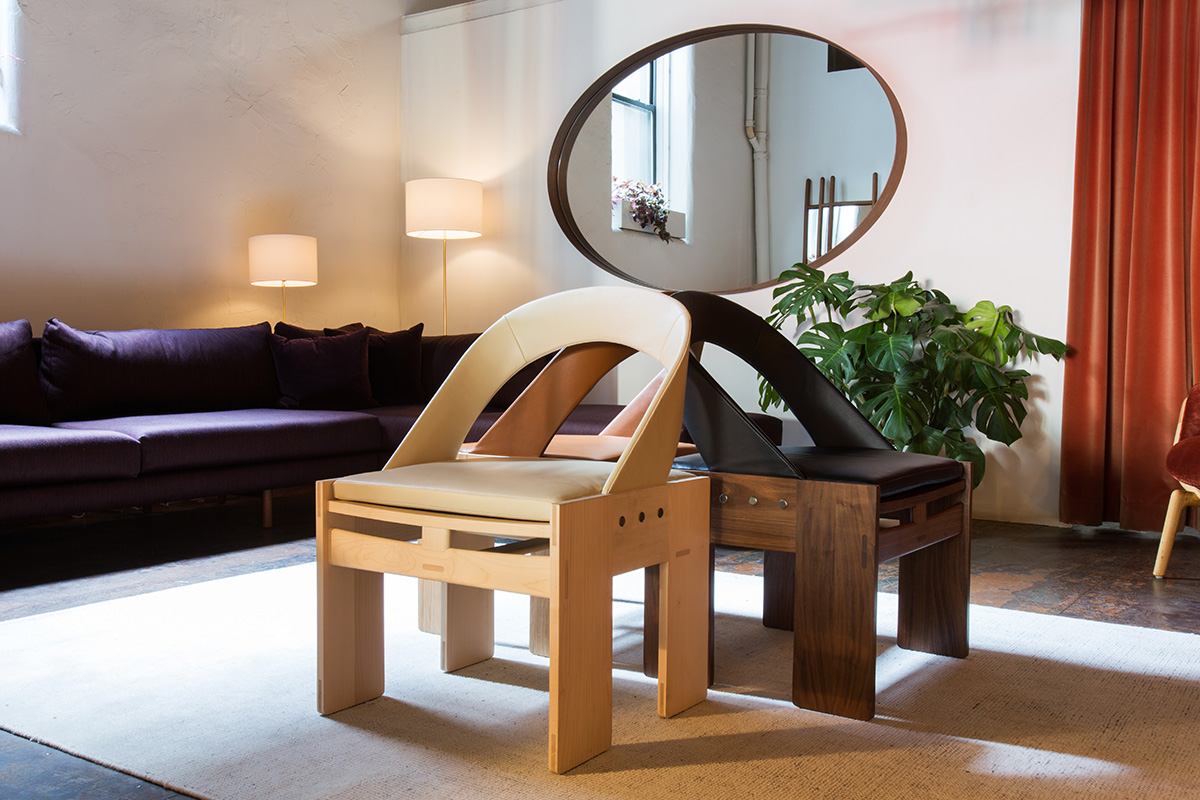 618 Chairs in the New York gallery. Photo by Lauren Coleman.
Scarpa, like his friend Frank Lloyd Wright, possessed an enduring passion for Japan and its visual culture. The architect was entranced with the country's literature, traditions and construction. These themes, along with the emphasis on water, symmetry and what the Japanese call shibui, the ideal of restrained elegance, can be found in his work. The architect died after a construction accident in his beloved Japan - many say he was just getting started.
Brion Cemetery in San Vito d'Altivole near Treviso, Italy, 1968.
Unlike some architects, Scarpa was never afraid to declare his sources: throughout his career, he was influenced by the Art Nouveau and Viennese Secession movements. He was also an admirer of American pioneers such as Wright and Louis Kahn and artists Rothko, Mondrian, Klimt and Joseph Albers. In each design, one can find clues to Scarpa's heroes past and present. It's there in the finer points between details, craft and poetry. You've just got to know where to look.
Scarpa's exhibition design for the Frank Lloyd Wright show (entrance pictured) at the MAXXI Foundation in 1960.