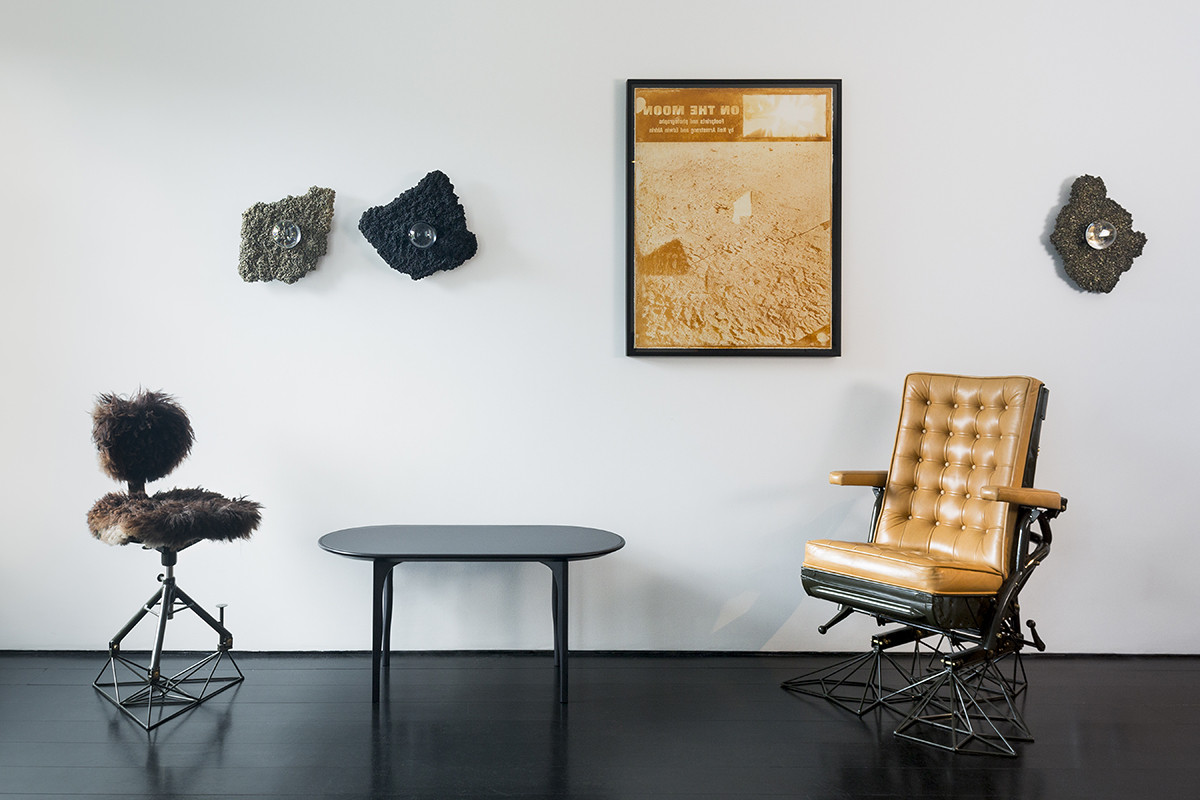 Design: A Space Odyssey with Matthew Day Jackson
August 17, 2019
Long before the successful Apollo Missions, many earthlings have engaged in a fascination with outer space. In 1969, with the famous moon landings, an infatuation for some became a mainstream obsession as popular culture followed lunar progress in its taste for all things extraterrestrial. Celebrating its 50th anniversary this year, the watershed moment drove major social change and inspired a generation of aesthetes, academics and entrepreneurs.
John Lautner's Chemosphere House in Los Angeles, 1960. Photography courtesy of Arch Daily.
Back in the fifties, as the space race gained velocity, an interstellar aesthetic pervaded. In the home, sputnik chandeliers anchored sunken lounge areas; elaborately tail-finned gas-guzzlers dominated the sweeping motorways, and Jetsons-style (or Googie) architecture reflected the culture's ebullient taste for the future. Take Los Angeles' octagonal Chemosphere house, built by John Lautner in 1960, which was once described as "the most modern home built in the world."
The space-age swept the design world in the decades surrounding the Apollo's moonshot. Ideas about the future were thrust to the fore, prompting new approaches to aesthetics in addition to the invention of entirely new materials, such as machine-molded plastic and stretch-synthetic fabrics.
Djinn Chairs by Olivier Mourgue featured in Stanley Kubrick's 2001: A Space Odyssey, 1965.
Following the moon landing, consumer electronics eschewed their boxy predecessors with smooth lines and curves that reflected those of an astronaut's helmet (JVC Videosphere). Furniture followed suit, with design staples that are still in production today. For example, these pieces include Eero Aarnio's exquisitely 'pop' 1960 Ball Chair; Verner Panton's revolutionary plastic cantilevered stacking chairs; The Djinn chair, created by French designer Olivier Mourgue (and famously featured in 2001: A Space Odyssey), and Eero Saarinen's tulip chairs and tables. Looking at the second half of 20th-century design, it's impossible to miss the sweeping cultural mania.
John Hogan's Reflect Table.
Yet, today's designers, who have come of age decades after the groundbreaking moon landing, are also captivated by the milieu. Apple designer Marc Newson's highly collectible furniture, including the now iconic Lockheed Lounge, pays homage to the space age, as does the futuristic lighting creations of New Yorker lighting designers Bec Brittain and David Weeks. On a smaller scale, Seattle-based artist John Hogan's one-of-a-kind glass works marry technical achievement with cosmic imagination, forcing one to conjure up far off galaxies.
Chair and art by Matthew Day Jackson. Photography: Daniel Kukla.
Then there is Matthew Day Jackson, whose recent exhibition - dubbed Kohlo, after a Finnish hamlet - was presented at Casa Perfect, New York. In collaboration with Formica, the artist developed a dining set based on images taken from NASA's Lunar Reconnaissance Orbiter in 2009, launched in honor of the 40th anniversary of the Apollo 11 landing. The artist also developed a small collection of theatrical furniture and works that were heavily inspired by NASA and the space landings. Given the contemporary fixation on space exploration, not to mention the fact that humans haven't been to the moon since 1969, we're bound to see design continue to draw on space's golden age. Let's liftoff.
Dining Table and Chairs by Matthew Day Jackson and lighting and Ceramics by Laura Seymour. Photography: Daniel Kukla.