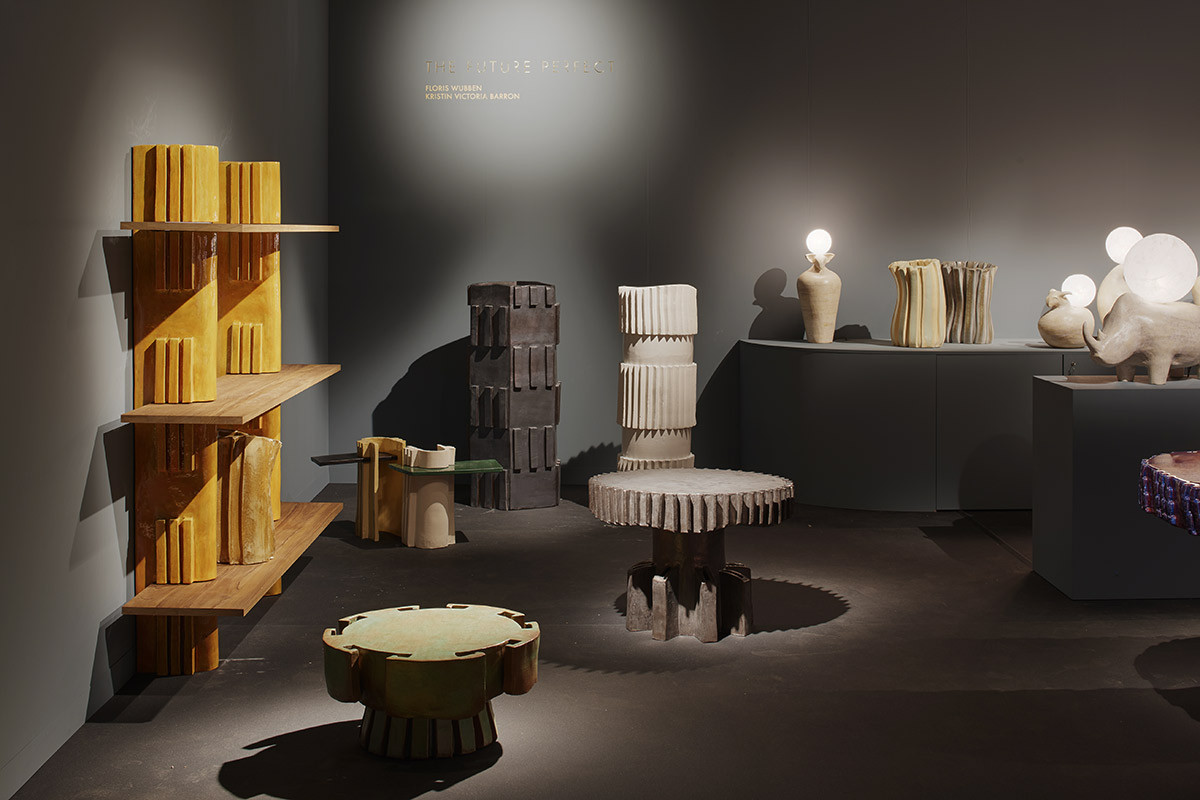 Design Miami/ Basel 2019
June 15, 2019
Since touching down in Switzerland for the first time last year, The Future Perfect has carved a unique position amongst the international design galleries who present at Design Miami/ Basel. This year, the gallery's viewpoint was honed further, with an exhibition of new, one-of-a-kind works by designers Floris Wubben and Kristin Victoria Barron.
All photography by James Harris.
Wubben, the endlessly experimental studio founded in Amsterdam in 2009 by its namesake designer, will build upon its successful Pressed project, which features furniture scale works constructed by using the centuries-old extruded ceramic technique. Among the striking pieces on view is a new version of the Twist table; the boldy elegant Bunker side table; and the unforgettable deep red Saw Lamp. The pinnacle of Wubben's new process-driven collection is a 3-meter long dining table that perfectly epitomizes the designer's masterful juxtaposition of process and technical acuity.
Taken together, Wubben's work is a masterclass in the elevation of machine-made works to objects of art. The pieces displayed in Basel, also includes coffee tables, chairs, an entry table and a wall shelf. Eminently collectable by nature of the production, each piece is considered a true one-off.
The perfect complement to Floris Wubben's standout vision, is the Origin Collection from Spain-based artist Kristin Victoria Barron. Known for her chimerical and highly personal work, Barron will present a series of 8 illuminated ceramic sculptures based on animals she has encountered in her dreams. True to her process, every piece has been handmade by the artist herself in her upstate New York studio (the peripatetic designer has since relocated her studio to Spain, with the ambition of expanding this body of work at a much larger scale).
A true double vision, the Future Perfect conceived a suitably enchanting booth design that marries the highly intimate universes of both designers. According to Gallery Director Laura Young, the design "embodies a palette inspired by dark summer nights illuminated only by the moon and the stars. Kristin Victoria Barron's animals graze at night with their own moons emulated by orbs of light floating above, while Floris Wubben's collection of large-scale ceramics create reflections of light and space like pools of water in the moonlight."
Praising the Wubben's "mastery of his skill with the material and process," along with Barron's ability to convey "the signature hand of the artist [while] representing her dreams with figurative animal-like forms," The Future Perfect founder David Alhadeff views the showcase as a distillation of the creative process. "The display creates a unique space for each artist's work to be appreciated and understood," Alhadeff proclaimed.