100 Franklin Street
February 01, 2019
The perfect New York apartment is a relative - and highly subjective - concept, particularly in downtown Manhattan. But it's safe that a spectacular new model space, a collaboration between the Future Perfect and visionary developers DDG Partners, may just tick all the boxes.
100 Franklin Street, situated in the heart of Tribeca, is a mixed-use residential building that juxtaposes the cutting edge with the historic. Featuring ground-floor commercial spaces that give way to capacious apartments and lofts above, the development features a hand-laid brick facade interspersed with classical masonry and flashes of outdoor greenery.
Photography by Robert Granoff
For their second such partnership, The Future Perfect were bought on board to design a one-of-a-kind residence that captures the building's singular vision of graceful, contemporary living. As such, the furniture pieces, accessories and objects displayed reflect the building's finely honed sense of contrast with a mix of collectible gallery works installed alongside exquisite furniture created by Portuguese luxury firm De La Espada.
Photography by Robert Granoff
Directional pieces, including lighting by Charles De Lisle, a 'non functional' table sculpture by Floris Wubben and a coffee table and chair from virtuoso Chris Wolston, were selected along with standout pieces from lighting designer Michael Anastassiades and one-of-a-kind hand-tufted rugs from Swedish textile brand Kasthall.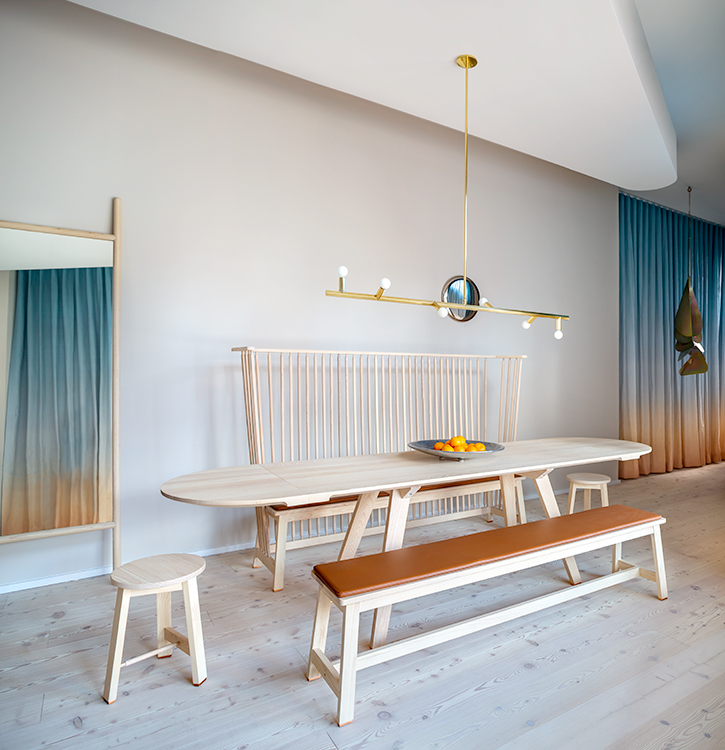 Photography by Robert Granoff
Designed as a space that exudes livable elegance, most of the contemporary staples were chosen from De La Espada's collection of world-class designers including timeless pieces by Neri & Hu, Matthew Hilton, Luca Nichetto, Studioilse, and Jason Miller. Elsewhere, texture is brought to the fore with drapery from COPE, the newly formed textile studio from bespoke wallpaper brand Calico, and fine art that includes zen-like ceramics by Lana Kova, painted triptychs by Pajtim Osmana, and an encaustic sculpture by Lerone Wilson.
Photography by Robert Granoff