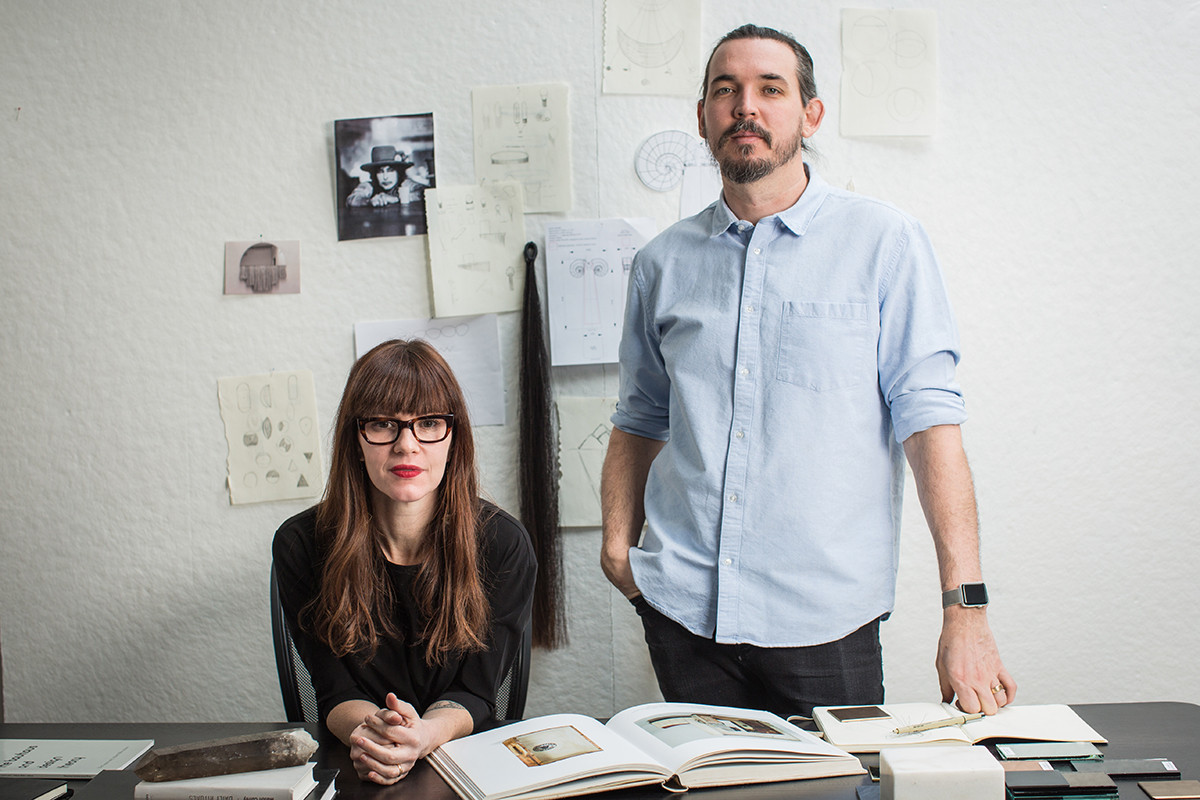 Interview with Ben & Aja Blanc
December 22, 2017
East Coast designers Ben and Aja Blanc bring an intellectual rigor to functional design. With inspirations ranging from choreographer Twyla Tharp to artists Richard Serra and James Turrell, the duo's collection of limited-edition lighting, furniture and objects leavens slick minimalism with unexpectedly rich materials. The Rhode Island-based duo, known for balancing elegance with functionality, talk us through their inspired creative process.
It is difficult to reinvent something so everyday and elemental as a mirror. Where did you draw inspiration from for your line of mirrors?
Initially we started with form considerations - sketches of forms and shapes and simple line drawings in our sketch books. At the time we were exploring the circle - questioning all its iterations. From there we moved into material explorations that give life to the forms we were sketching - working with mirror came out of those material/form explorations and we knew we wanted to temper the coldness of the material and minimalist shape with a warmer juxtaposing element.
How did you arrive at the materials? Silk and mohair are not traditionally associated with such a utilitarian piece.

Materials for us quickly move beyond the functional and into broader aesthetic considerations - they are what gives our work its textural interest, defines the color palette and references historical connotations. As we looked to add warmth and a handmade quality to the mirrors, fiber was the perfect answer and silk, when combined with wool and mohair, had the exact textural interest we were looking for. We source the fiber from Japan where it is hand spun and hand dyed. There is really nothing else like it in the world. Our latest collection uses Mongolian horse hair, which plays with textural juxtaposition in a more meditative form.
Your studio production could be viewed as somewhat atypical for a design firm: the material palette is quite experimental and many finishes are hand-crafted. Can you explain your take on this process? The mirrors are certainly known for this singular marriage, but how is it applied to other products within the collection?
We don't always start with what you might call a "traditional design problem", such as solving a functional need. We more often are drawn to starting with an aesthetic questioning and then naturally pairing our solution to a function - around the studio we call this first step the "aesthetic function", which really does describe our process in a great way. We have found that when you follow the inverse path of function following form, there is a freedom in the design process, with so much more room for the unexpected to emerge and new discoveries to be made. It's not to say that function is left behind. We see it as critical to the objects overall success. Its just not our starting point and in some ways, allows us to follow a more enjoyable, esoteric practice.
What references do you draw from the broader worlds of art and architecture?

We look to the world of fine art most frequently when we are, as Twyla Tharp calls it, "scratching" towards inspiration. Formally, we look to large scale, all encompassing ambitious work like Richard Serra, James Turrell, Wolfgang Laib. Laib's work is a great example of minimalist forms that still possess an element of warmth that most often comes from the material. In regards to artistic process, Louise Bourgeois is certainly a big inspiration. Her insistence to "make the problem physical" is at the heart of our practice in many ways. We also often look to fashion - the speed with which forms, lines, shapes and textures come and go seems to allow for real experimentation that is exciting to follow. Our writing practice is also a big part of our studio approach. Although we don't share it externally, it gives us a container that conceptually holds our objects, making them richer and better positioned in a larger design conversation.
Photography by Lauren Coleman.