Interview with Marta Sala
March 16, 2017
Believing that architecture is the foundation of all design and furniture is much like a dialogue, Marta Sala's Éditions is a collaboration between the namesake founder and the architects Claudio Lazzarini and Carl Pickering.
The first two collections were designed by Lazzarini & Pickering. Why did you decide to work with this architectural team?

I found Lazzarini & Pickering possessed the same approach to design that I was trained in, under my uncle Caccia Dominioni. Each piece should be born for specific need and place, which gives the piece a unique solution and strength.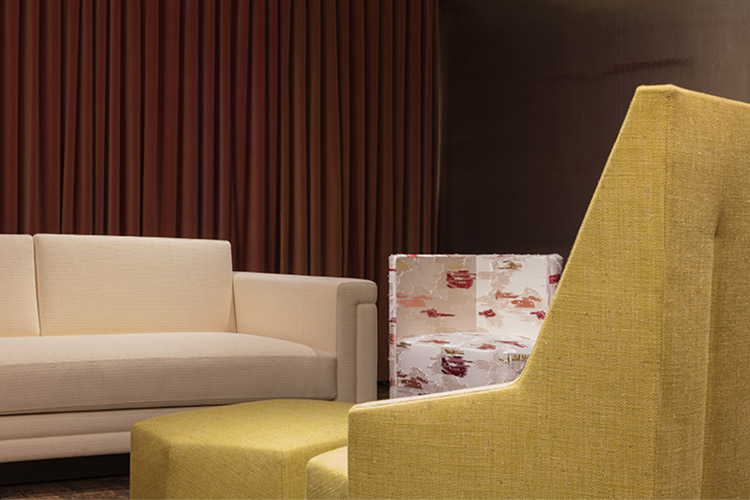 Your family has a strong legacy when it comes to production and design. Can you describe how that has influenced your company?
My mother decided never buy a fabric, but just apply to the best craftsmen based on their knowledge and quality. It's exactly what I do, which gives me the freedom to work with the specific person for a specific finishing - it's about material and discipline. Because I am involved in all of the production I am able to avoid a lot of the added fees.
We are very spoilt around Milan; we have this unique combination between handcraft and technical support that gives an incredibly high standard of quality without losing the sense of soul achieved from human application on each piece. You can feel it when you see pieces in real life. I take care personally with production because I know exactly what I want and how to optimize architects and craftsman's knowledge.


You have said that it all starts with architecture. Can you explain this approach?
I come from an industrial design world, inspired by the Bauhaus, where each piece has to be thought out and realized in the best way with the best balance cost /price. Architecture has a huge influence on everyday life and everyone's way of living, so it's very important that furniture can complete this "tableau" in order to be coherent and successful. I like the idea that each single piece is a complete project.


Many of the pieces in the collection are hybrids of two or three different functions. Is this a response to modern ways of living?
Sure, modern living is changing, we talk to a globalized world with so different uses and habits . Before design used to oblige people how to seat, how to stand, how to eat; now what we have to do is offer a product very useful and modular, able to give an answer to so many different needs and spaces.


Can you explain the creative process of assembling the collection with L & P? What kind of brief did you issue them with.

Some pieces were already designed for specific clients and others are born for a specific need felt by me, like Renoir mirror or the new version of Duda or Murena that I present next Salone , in different size and height. It's what I love in Lazzarini & Picketing work, they possess a very contemporary attitude toward space.


The collection isn't overly referential of any particular period, yet feels very Italian. Can you explain how this was achieved?

Yes pieces look like timeless and I suppose it's what we call culture. Marta Sala Editions is the results of Lazzarini & Pickering's knowledge, top select craftsmen and my heritage. That's the raison it all feels so Italian; it's definitely part of Italian culture and heritage and ethic.


Do you have any favorite pieces that you feel personify the MSE ethos?

All of them. Maybe the Megan lamp table where you feel the work and application of 4 different workers.


Photography by Lauren Coleman.