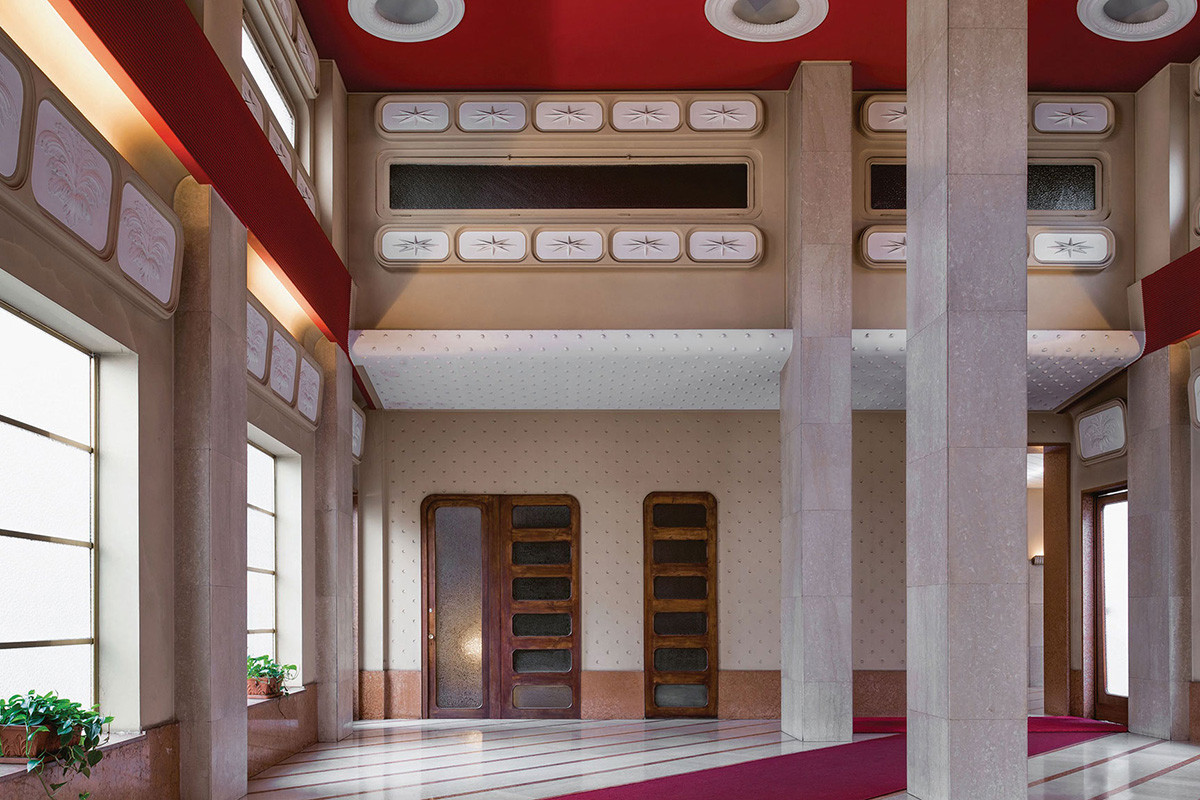 Your Future Perfect Guide to Milan, 2018
April 06, 2018
Experience has taught us that some degree of advanced organization is essential when visiting Milan's annual design week, 'Fuorisalone'. This year's fair is shaping up to be a watershed one: more American talent than ever is on-show and a series of can't-miss presentations
will have us feverishly crossing town.
During design week, the Milanese know how to put on a show. Scroll down for a list of our most anticipated shows and our local's guide for places to eat and drink, and get ready for a week of early morning meetings and late night cocktails. Andiamo!
Photo credit: Paola Pansini | Entryways of Milan edited by Taschen.
Lindsey Adelman | Drop
Drop everything for Lindsey Adelman's very first independent exhibition during Salone. The biggest name in lighting is showing off her newest creation with an immersive collaboration with our very own Calico Wallpaper. Via Maroncelli, 7.
Calico Wallpaper x Lindsey Adelman | Beyond the Deep

Joining Lindsey Adelman, Calico Wallpaper will immerse visitors with an experiential presentation that will feature Adelman's new 'Drop' lighting series alongside Calico's luminescent 'Oceana' murals. Via Maroncelli, 7.
Piet Hein Eek | Spazio Rossano Orlandi
Showing once again at the much hallowed space of Milanese deity Orlandi, Dutch designer Piet Hein Eek delves further into lighting, with a new system of delicate porcelain pendants paired with sleek, industrial hardware, shown alongside his classic scrapwood collection. Via Matteo Bandello, 14/16.
Dimore Studio | Dimore Gallery

Prepare to be immersed in the emotional experience of design that is Dimore Studio. Milan's hottest interior design duo will debut their new collection enigmatically titled 'Perfettamente Imperfetto' (perfectly imperfect). We couldn't be more delighted by the name. Via Solferino, 11.
Hagit Pincovici | Manfredi + Baxter Cinema

Israeli born artisan Hagit Pincovici will appear in two locations during Salone. In a group show titled 'Aesthetic Visions' curated by Studio Milo (5 via Palermo, second floor) and Baxter's presentation at Baxter Cinema, featuring designs Pincovici has created for the iconic Italian manufacturer. Largo Augusto, 1.
Marta Sala | Marta Sala Éditions

Marta Sala's collection with architects Lazzerini & Pickering continues to evolve, expand and delight, with a new group of work that plays on familiar silhouettes. Sala's showroom will certainly be one of our first stops. Corso Monforte, 15.
Lee Broom | Observatory

Lee Broom's magical world is one that effortlessly combines glamour and intrigue. His theatrical displays are akin to set designs that continue to wow us every year. We can't wait to see what's in store for us at 'Observatory'. Via Lovanio, 6.
BOCCI | 84 Series at Spazio Rossana Orlandi

Vancouver and Berlin-based BOCCI will present their exquisite 84 lighting series - based on a white glass orb supported by a mesh basket with a light source that casts a coppery hue. The
configurable lighting will be on view at Spazio Rossana Orlandi on Via Matteo Bandello, 14/16.
Jonathan Cross | Wallpaper Handmade

The Future Perfect's very own Jonathan Cross will be showing his incense burners at Wallpaper* Magazine's annual must-see handmade exhibition. This year's showcase, 'Wellness + Wonder' is dedicated to mental and physical wellness. Mediateca Santa Teresa via della Moscova, 28.
Other Milan Highlights
While you're in Milan, the following shows are definitely worth the visit!
The Diner | David Rockwell with Surface and 2X4
Bringing a dose of Americana to Milano, this weeklong installation takes the form of a full service restaurant. Unlike most diners, reservations are essential. Ventura Centrale.
Cos | Featuring Phillip K. Smith III
Following up last year's epic - and epically Instagrammed installation - fashion brand COS collaborates with interactive visual artist Phillip K. Smith III. Sited at 16th century Palazzo Isimbardi, the work will be ever changing. Let the 'gram one-upmanship begin.
ROOMS | Sculpting in Time
To celebrate their 10 year anniversary, ROOMS present 'Sculpting in Time', an exhibition of their iconic pieces alongside the new collection, 'Life on Earth.' Via Giulio e Corrado Venini, 85.
Made in Ratio | Focus
'Focus' captures the essence of Made in Ratio's exploration of natural materials and organic forms. The studio will launch new pieces including the Focus coffee table and the Rotor Stool. Via Palermo, 8.
Nendo | Forms of Movement
Japanese design sensation Nendo introduces ten concepts based around the theme of movement. Superstudio, Via Tortona, 27.
Fondazione Prada
One of our favorites - all year round - Fondazione Prada goes from strength to strength. This year will mark the inauguration of the OMA-designed tower, which will feature six floors of galleries in addition to a aerie-like terrace and bar. Opens April 20th, Largo Isarco, 2.
APPARATUS | Act III
With their typical glamorous insouciance, the New York studio will unveil new lighting, furniture and objects. Via Santa Marta, 14.
Formafantasma
The Italian duo will appear during design week, including a talk about 'ore streams,' a current conceptual piece centered around recycled electronic waste.
Cristina Celestino | Corallo
Celestino reinterprets the historic street car of Milan with Corallo, a screening room on rails, reinvented in a contemporary way.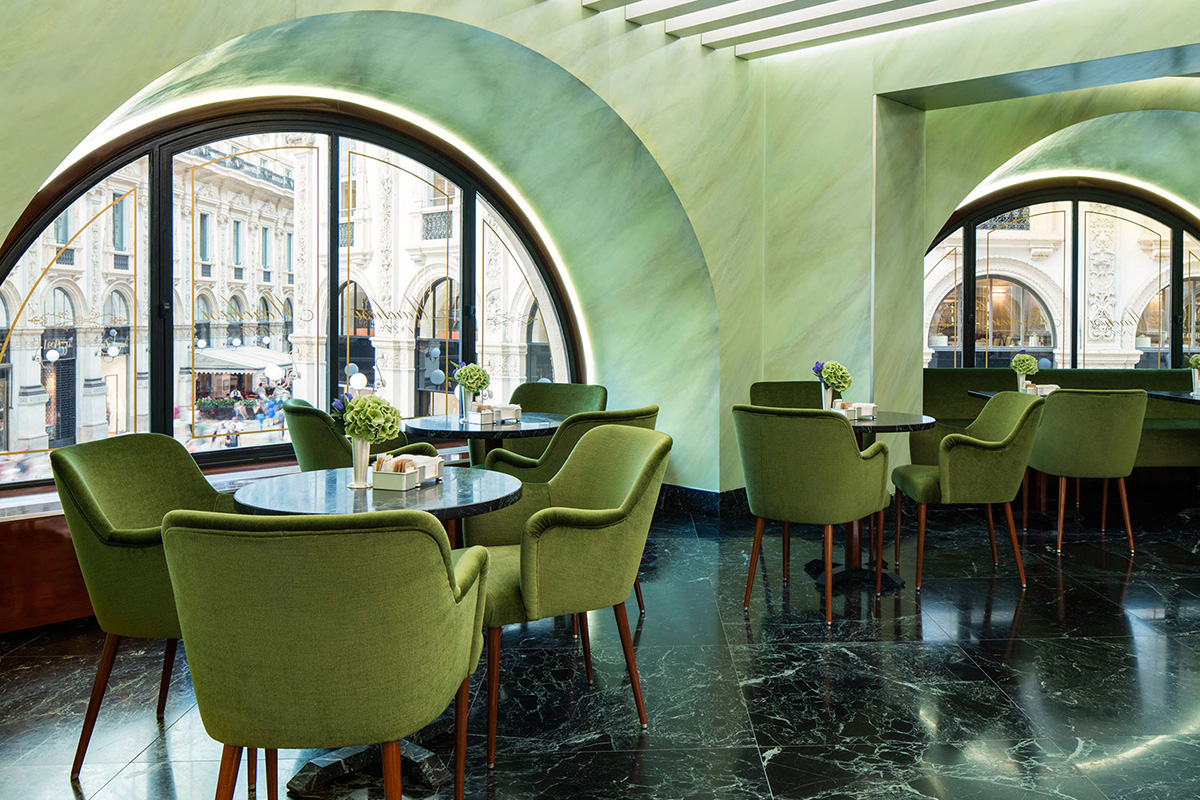 Local's Guide to Milan

Wine, dine and even dance like a local with our insider list of restaurants and bars.
La Fettunta
Close to the action, this classic Milanese eatery keeps things simple with seasonal Northern Italian cuisine, excellent wine and chilled service. Via Santa Marta, 19.
Pasticceria Marchesi
Operating from the same picture perfect corner space for more than two centuries, this darlin' Jade colored pastry shop owned by Prada, will do you right with exquisite confections including cakes, cornetti and exceptional coffee. Galleria Vittorio Emanuele II.
oTTo
Excellent all-day option with cool, laid back decor and nourishing yet healthy food such as open faced sandwiches and seasonal salads. Via Paolo Sarpi, 8.
La Chiasetta
Housed in a deconsecrated church, La Chiasetti has become an essential spot for fine cocktails and late night interludes. Via Paolo Lomazzo, 12.
Shiva
Like its namesake, this Indian eatery brings a sense of drama. The perfect antidote to too much pasta and risotto. Viale Gian Galeazzo, 7.
La Sardina Innamorata
Embodying Italy's slow food ethos - local, simple and delectable - La Sardina is steeped in Italy's culinary richness whilst delivering food of remarkably deliciousness. Via Verziere, 3.
N'ombra de Vin
In an atmospheric vaulted space, N'ombra de Vin is one of the city's key venues for exceptional wines. From aperitif to dinner, this atmospheric bar serves up exceptional bites, wines and a selection of cocktails. Via S. Marco, 2.
La Libera
Centered in Brera - where all the actions happens - this classic restaurant does everything right: exceptional pizzas, one of the city's best risottos and perfect seasonal salads. Traditional Italian done right. Via Palermo, 21.
Giacomo Bistro
Imbued with a dash of French glamour, this sleek bistro is known for its delicious and dependable Tuscan fare. Just the spot to recharge after a day of design fair mayhem. Via Pasquale Sottocorno, 6.
Arizona 2000
For late night assignations and a good dance, this club night - housed in a historic dance hall - should not be missed. Via N. Battaglia, 12/14.