Tom Blachford: Nihon Noir
February 01, 2018
After his captivating series Midnight Modern, which documented classic modernist homes in Palm Springs, photographer Tom Blachford has become a hot commodity in both the art and design worlds. A master of light, Blachford was flown to Tokyo on behalf of iconic Japanese beer brand Asahi to document the city's fascinating and constantly evolving modern architecture. We spoke with Tom and got an insight into his singular process.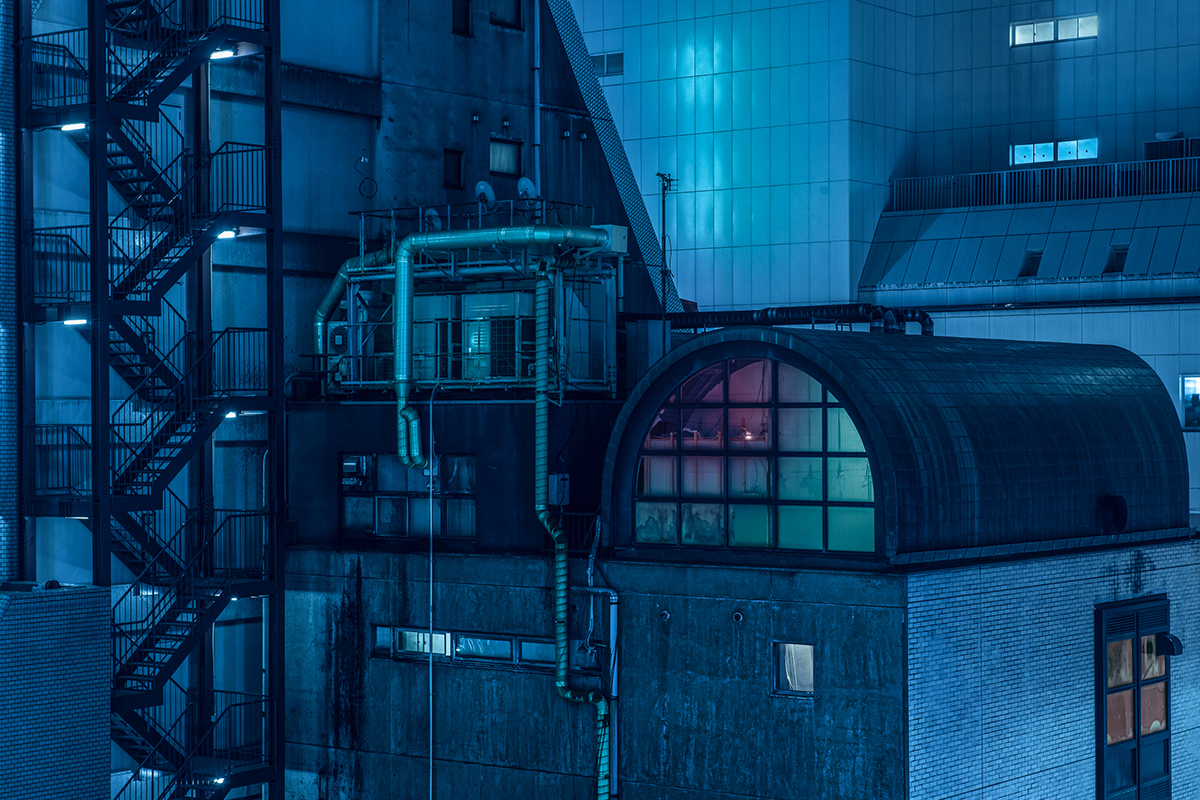 Deckard's Den
Tokyo's architecture is a bit of a pastiche. What buildings did you gravitate to? And were there certain architects that particularly captured your imagination?
During my research I immediately gravitated towards the work of Kenzo Tange, in particular the work he did during the Metabolist period decades before. I loved the Metabolist philosophy and aesthetic which attempted to combine megastructures with concepts of organic growth and change. Using his work as a base I followed his career through and also looked at the work of some of his contemporaries including Kisho Kurokawa who designed the Nagakin Capsule tower. I also loved some of the later postmodern work of the 1990's such as the Edo Tokyo Museum and Tokyo Big Sight so felt I had to include them as well.
Edo Tokyo Museum
You've managed to find a new angle into Tokyo, a city that's been captured a lot before. How did you do this? You've made the city seem almost tranquil.
I love shooting at night, it's a challenge and adventure that can't be matched by shooting in the day. I am always trying to explore a tension, a balance between a moment of silence and the foreboding feeling that something might be about to take place. I'm trying to create these moments between moments that are charged with suspense. The treatment also played a big part in this, I wanted the feeling that everything was washed in blue and neon colours, that there was natural light to be found anywhere.
Nagakin Capsule Tower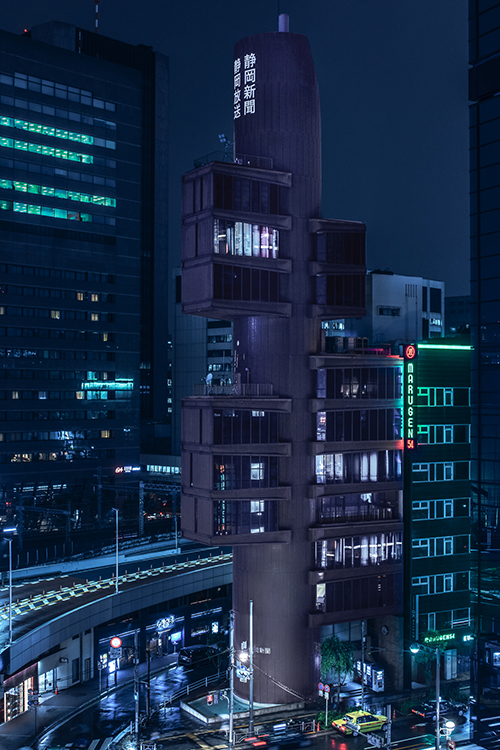 Shizuoka Press
Coming on the heels of Midnight Modern... one must ask... why does the night - its light and ambience - attract you?
I personally think the most interesting art is the kind that asks more questions than it can ever answer. For me the night and the darkness has always provided endless questions for humans. Shooting at night with a camera provides even more intrigue as the camera is able to peer into the darkness to capture light far beyond what our senses can perceive. In that sense my camera is like this bridge to another world which I find fascinating.
Why do you think Tokyo is such an interesting architecture city, certainly from a modernist standpoint?

Tokyo has a real mix of architecture, possibly more so than many places I have visited. I think that Japanese culture seems to celebrate laser like focus on a task and many of the buildings represent this absolute drive towards a goal. Some of the buildings are so refined yet so crazy I feel like it spawns buildings that could only exist there.
Favorite building in Tokyo? And favorite of all time?

A tight race between the Edo Tokyo Museum and the Nagakin Capsule Building. I think the Sheats-Goldstein house in Los Angeles by John Lautner is my all time favourite.
The Battleship