Shopping With Sarah Harrelson
July 14, 2018
As the founder and editor in chief of Cultured, the zeitgeist-surfing arts and culture magazine as well as recently launched LALA, a portal into Los Angeles' burgeoning creative scene, Sarah Harrelson wields formidable influence on both coasts. A glimpse into her elegant Miami Beach family home reveals a passionate art and design lover with her finger on the pulse of both design and art. Designed in conjunction with Harrelson's husband Austin, the home features work from talents such as the Haas Brothers, Thaddeus Wolf, Rashid Johnson and David Wiseman. Given her unerring eye and impeccable cultural radar, we couldn't think of a better Shopping With companion.
On her TFP picks:

I'm a big fan of Eric Roinestead's work. The WL02 Sconces are so elegant. I would love to own them!
Dimorestudio's "Libreria 074" modular shelving system would be perfect for my new office! It's everything a bookcase should be, simple and understated.
I love the Lavaca Table by Yucca Stuff with the shell limestone. All I can think is what a chic desk it would make.
Instead of a traditional mirror above my sink, I'd love to use this Michael Anastassiades Brass Mirror Type 1. We profiled Michael a few years ago in CULTURED and I'm always interested in what he's making.
There is something so beautiful about the True Blue Lamp from Catherine Raben Davidsen. The elongated form, slightly undersized shade and that blue could make a room!
I live in Miami Beach and we love going outside and cutting palm fronds which would look amazing in The Water Lens Clear Grid by John Hogan.
1. LALA Magazine has been a massive success. What drew you to producing a culturally driven magazine focused on Los Angeles?
LA has experienced a seismic cultural shift in the last five years. I found myself covering LA more frequently in CULTURED and then it hit a point where there were so many creatives working across disciplines with stories I wanted to share. It was the perfect time to start LALA. I didn't anticipate how quickly we would be embraced by the community and have been very pleasantly surprised by our reception and sales. There is a true arts renaissance happening and we feel very lucky to be covering it.
Latest edition of LALA, Summer 2018.
2. Since we're speaking of LA, what are some of your quintessential picks in the city?
I love what the team at BBQ LA are doing. It's an artist-run space in DTLA that puts forth really strong work to a very engaged community each month. Their openings get between 300–500 people. I also love The NoMad Hotel, The Beverly Hills Hotel, Malibu, Gallery Half, JF Chen, VSF, Karma International, The Row and Andy Lecompte salon.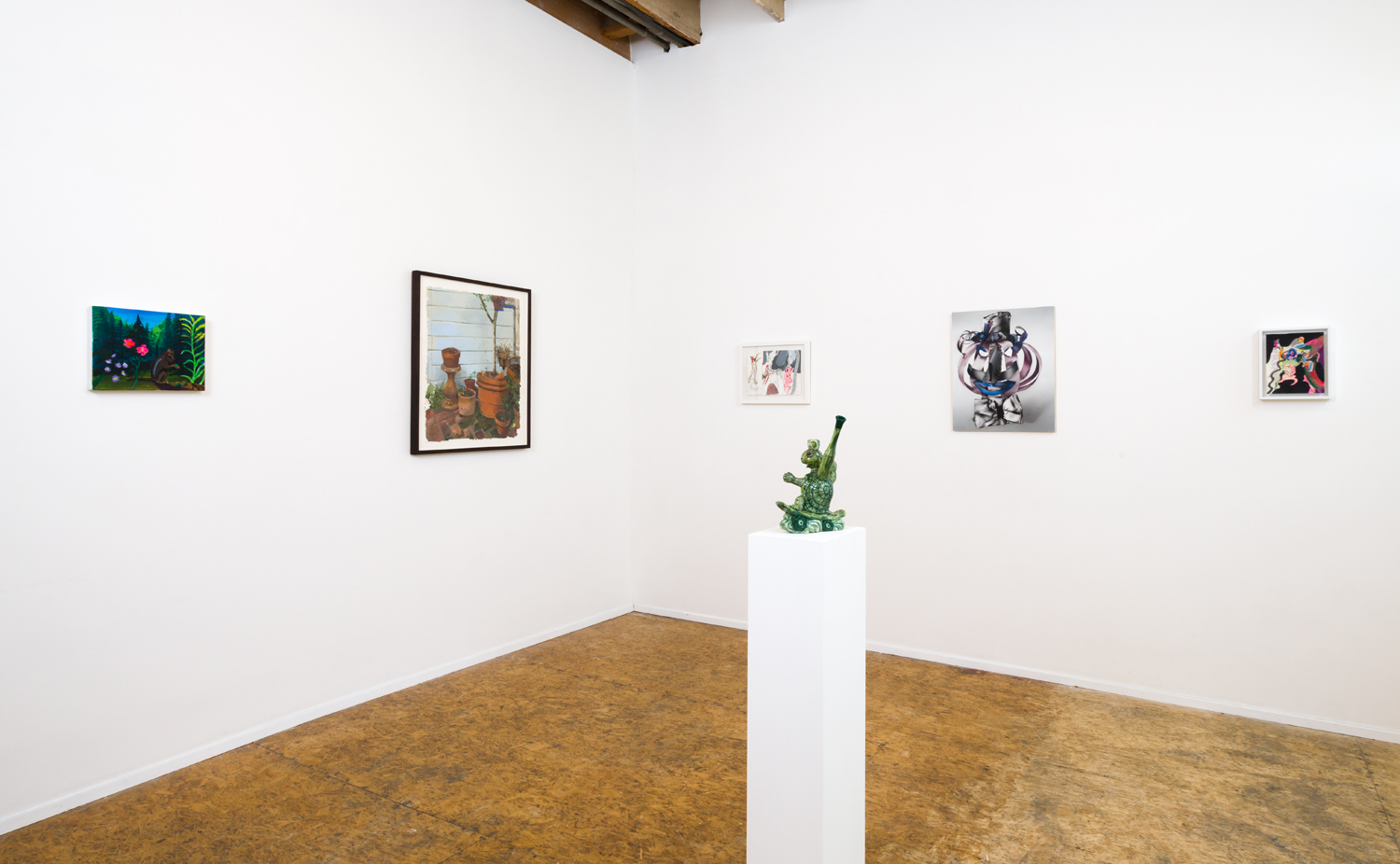 Install shot of "Oro En Paz" curated by Andres Guerrero at BBQ LA, 2017.
3. CULTURED has a history of championing artists who later become big art stars. Over the years what have been some of your favorite subjects?
I am driven by discovery. That is my real passion. I love finding people who are on the cusp in their career. There are so many over the years, but a few that stand out are Jacolby Satterwhite in 2014, Adam Pendleton in 2013, and of course I would say everyone from our annual Young Artist list: Jordan Casteel, Toyin Ojih Odutola and Avery Singer, to name a few. We had architect Frida Escobedo on the magazine before her Serpentine commission.
4. You've always been very immersed in the design world, even curating work through Cultured Editions. Do you feel like design has become a bigger player in the overall conversation?
It's something we actually talk about a lot. I absolutely think the world of contemporary design has grown tremendously, but it is still small. People like the Haas Brothers, who have a broader star appeal, really help in reaching new audiences.
Cultured's newsstand at FOG Design+Art fair designed by artist Jenny Sharaf.
5. Your wonderful Miami home is a real repository of art and design. What are some of the key pieces?

My husband is a designer so our house is constantly evolving and he is always bringing new things in, but some things I can't live without are our Rogan Gregory stone lamps, Haas brothers ceramics, my new Cosmic Slop painting by Rashid Johnson, Plaster Giacometti lamps, my Lucy Dodd, and the Janiva Ellis painting my son bought himself last summer.
India, Audrey, Sarah and Austin Harrelson in front of Lucy Dodd's "Wet Whiskers." Photo by ©Gesi Schilling.
6. Finally, you're a hard person to pin down given all the work travel. Have you happened upon anywhere amazing recently, either for work or pleasure?
I feel like everywhere I go is for work, but I recently stayed at the Villa San Michele just outside of Florence and it was a magical setting with gorgeous gardens everywhere you turned. I just wish I could have stayed longer.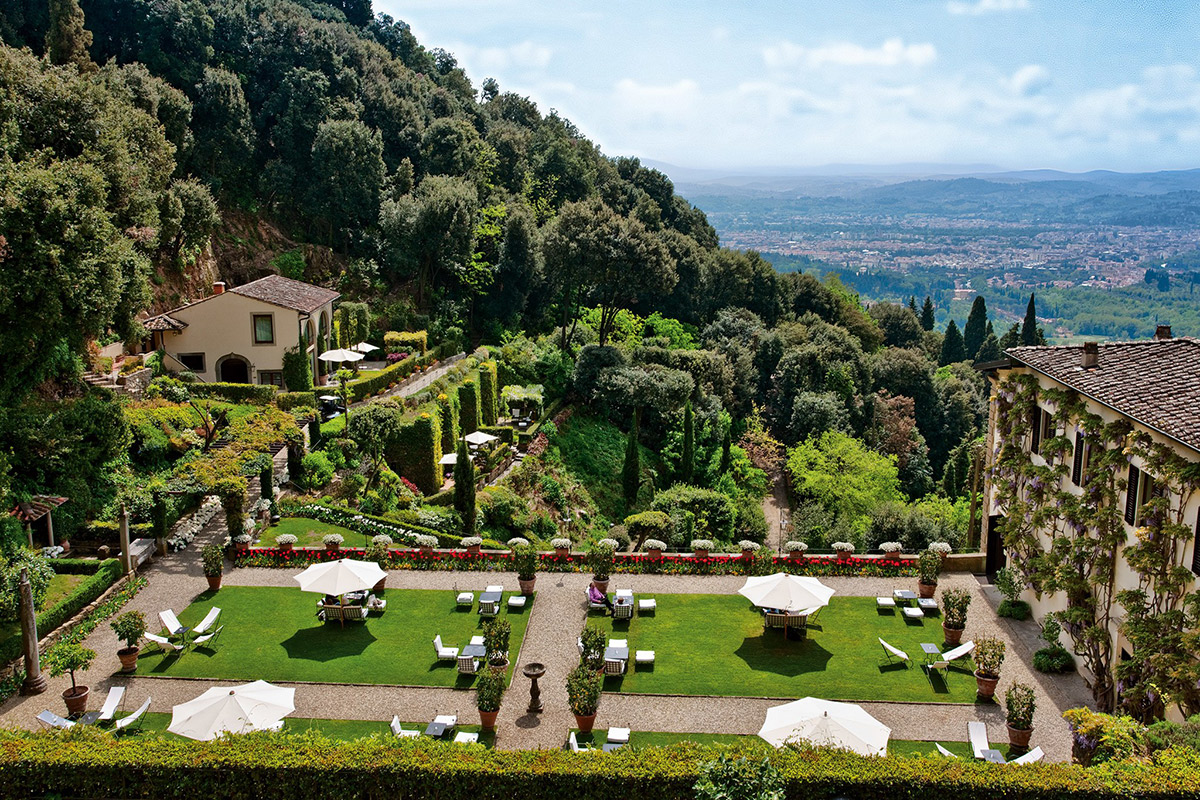 Belmond Villa San Michele in Florence, Italy.