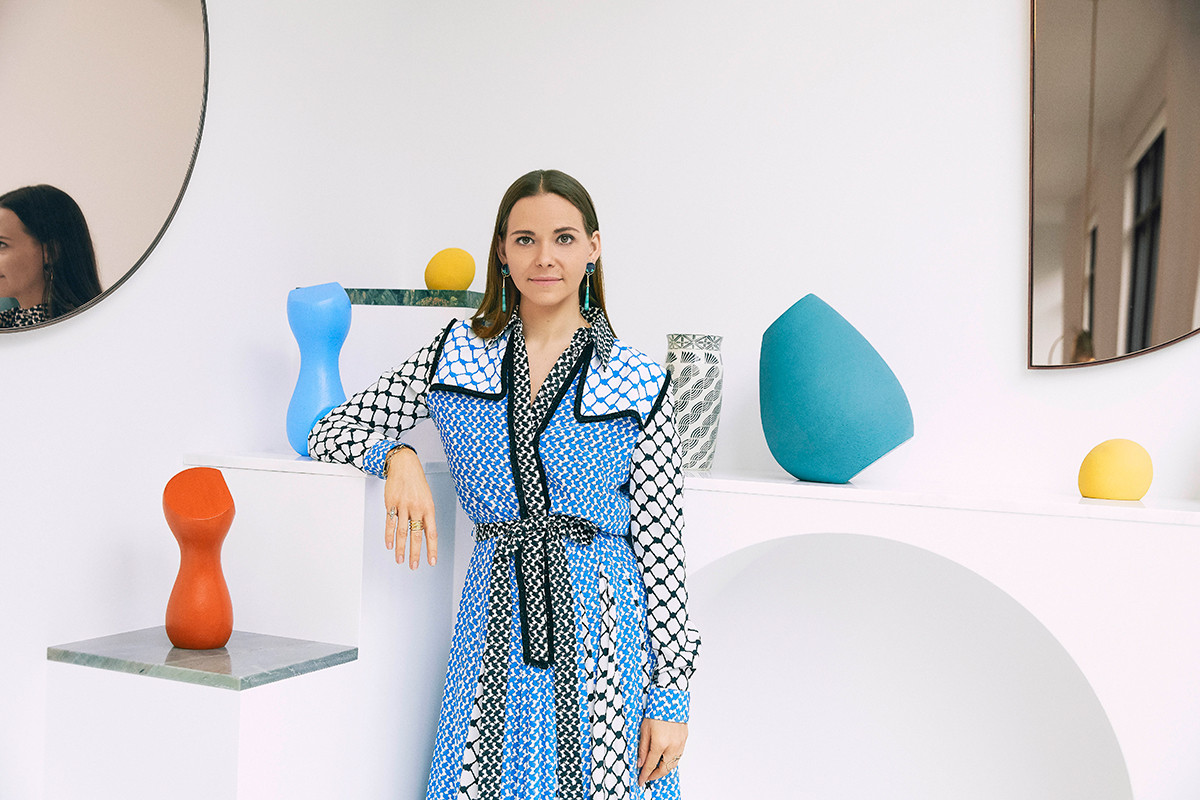 Shopping With: Caitlin Mociun
December 15, 2018
Caitlin Mociun founded her namesake jewelry line in 2011 with the intention of creating fine jewelry that is streamlined, elegant and enlightened. A natural born collaborator, the brand's stylish founder credits her exacting eye to years of global voyages and her studies at the Rhode Island School of Design.
Mociun, whose peripatetic energy imbues all of her creations, brings a highly cultivated sensibility to all aspects of the business, from to the brand's Williamsburg flagship, which features work by Bec Brittain, Lukas Peet and Fernando Mastrangelo, to the Bauhaus-inspired bijoux and exceptionally crafted lifestyle objects. Caitlin's taste and talent made her an ideal partner (Mociun will be showcased at our San Francisco gallery on December 14th and 15th) and candidate for our Shopping With showcase. Let's go!
On her TFP selects:
I'm drawn to the detail of how this Jason Miller chair leg splits into two as it meets the top of the chair frame. It's an elegantly designed chair, I love the detail.
I've wanted this couch for such a long time but sadly don't have room in my apartment. It looks like a marshmallow, which is largely what appeals to me.
I've always admired John Hogan's work. His glasswork is sophisticated and impeccably done - this is just a beautiful object.
Or any of Lindsey Adelman's Totem lights. It's so futuristic and reminds me of a piece of jewelry, like a pendant earring.
I have always liked this Katherine Gray bowl. I envision this bowl looking beautiful in the middle of a long dining table.
I really admire this studio's aesthetic and what they've done in interior design. This fringed chair is the perfect balance of femininity and modernity.
1. What is it about the Bauhaus school that has captivated you? Can you explain any of the particular designers of the school who've impacted you?
My interest in Bauhaus has less to do with specific designers and more the underlying philosophy. I went to RISD, and their academic approach is based on the Bauhaus method, which teaches you to look at the fundamental building blocks of design.
Functionality is important to me. If I'm making jewelry, it needs to be wearable. I love and respect plenty of designers that make nonfunctional jewelry, but it's not my desire or approach. A piece of jewelry is meant to be worn on a human body. Going to RISD and continuing to look at the Bauhaus taught me to be analytical and critical of my work, to ask questions about my work and make sure I can answer those questions, so my work can be successful.
2. How does the Bauhaus movement find its way into your work, specifically your collections for Mociun?
For me, Bauhaus means looking at things holistically. When designing jewelry, I take multiple factors into consideration, and no one factor is more important than the other. First, I consider our materials - where it's from, its age, how it's going to wear, whether the application is an appropriate use of the material. For example, we won't put a faceted opal in a ring because it will chip, but it works for an earring.
I also think about how the piece is made, the price, how it's supposed to be worn - all these factors have to be weighed during the design process. I don't want to design a ring that looks beautiful in a case but isn't practical to wear. I want to problem-solve and if the design doesn't work, then it doesn't make it out into the world.
Bauhaus is about looking at basic shapes and primary colors and getting down to the building blocks of design, so I'm always thinking about the building blocks of a good piece of jewelry and of a successful business.
3. What prompted your transition into jewelry after working in fashion and exploring other elements of design?
I started jewelry while I was designing clothing. The jewelry tied into whatever the collection was. The original moon and stars design came from a clothing collection based on the solar system.

I really liked the process of working with jewelry. From a pragmatic standpoint, jewelry felt much more sustainable than clothing because it was made to order. It allowed me to try things that were riskier. With jewelry, I could try a design that might be hard to sell because I could develop one item, then see what happened, my collection was completely made to order for a number of years.
I never liked how women talked about themselves in fashion. People criticize themselves constantly, but if a ring doesn't fit someone, their body image doesn't play into it. It's nice to make something that makes people happy, and it's nice to make something that someone can save up for.
With jewelry, there's no pressure to buy a certain item or size because of limited inventory, unlike clothing. Admittedly, scarcity is part of our business now because we have one-of-a-kind pieces, but we also have made-to-order collection pieces, so if someone wants to save up for a purchase, they have the freedom to purchase at any time.
4. Your jewelry is sustainably sourced. For those who aren't aware, can you go into a little detail regarding what this entails?

We try as much as possible to know the origin of where our materials are mined and cut and how they're treated, if there's treatment to them. From a technical aspect, it's good to know so we know what we're working with.
We also try to work with materials from places that have better human rights and environmental practices. We use as much repurposed material as possible, particularly diamonds. We often buy old pieces of jewelry from dealers. We'll use the center stone from an antique ring or take accent stones from an old brooch.
That is part of what attracted me to jewelry - the idea that you can take an old piece of jewelry of yours or your family's and have the flexibility to take it apart and make a new piece.
There are a lot of recycled metals used in jewelry, but we haven't yet been able to get a casting grain that's 100% recycled gold 100% of the time. We're working to find a partner who does that and can readily supply us.
Because the materials used in jewelry are valuable, none of it goes to waste. All the gold in jewelry history keeps getting reused, unlike clothing, which is destroyed. If a jewelry collection isn't successful, you can take it apart and use the stones for something else and melt the gold down. I love that aspect of jewelry.
5. Your work has a really witty and charming components, particularly with the NYC food collection. Why did you mine some of these icons for a collection?
I've always loved fake foods and oddly-scaled things. I thought about miniature foods made out of luxe materials as an art show concept years ago and wanted to call it Fine Foods. I was encouraged by a former staff member to turn it into a charm collection for Mociun.
I had a ton of ideas for foods and wanted ones that read well in a group. New York has so many iconic foods like pizza, pretzels and bagels. Plus, we're based in New York, so it felt appropriate.
We wanted the collection to have a sense of playfulness, which is definitely part of the Mociun brand. There's a sense of humor in having a pizza slice made of 14k yellow gold, white diamond cheese and carnelian pepperoni. That's my favorite charm in the collection.
We also incorporated that playfulness and mix of high and low into our campaign shoot - here's this beautiful woman wearing beautiful clothes and jewelry, and she's eating a slice of pizza with a knife and fork.
6. The Trinity collection is a lovely take on Oskar Schlemmer's famous ballet… what draws you to this captivating source material?

I'm attracted to the Bauhaus aesthetic, so I've always liked the costumes and theme of the ballet. The Trinity collection related to Bauhaus because I picked the basic shapes and materials I was going to work with, then created from that. I looked at the costumes in the ballet and the way they moved and focused on the movement of these pieces of jewelry as little marionnettes or dancers. I was using these very basic shapes like a circle and a few bar lengths to build these many characters and forms.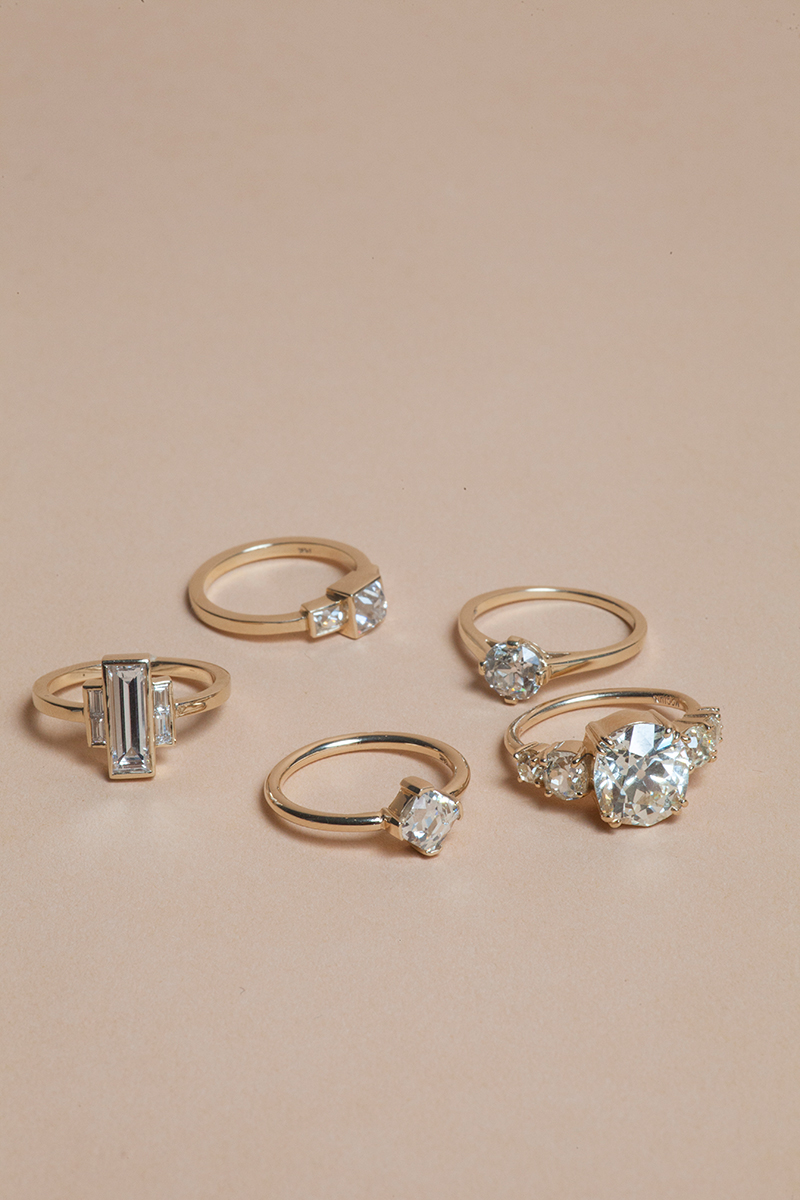 7. Can you talk us through some of your wonderful one-of-a-kind and custom pieces?

Because of the type of materials we work with, I'm offered and look for the most special things out there. I can get a really rad stone that there's only one of and there won't be another of, like a unique bicolor sapphire or a diamond from the '20s with an interesting cut that was probably custom cut for a piece of jewelry at that time.
Because of their scarcity, we can't make collection pieces out of the materials I have access to. That's how our one-of-a-kind and custom programs were born. Making one-of-a-kind pieces is a way for me to experiment and try more unusual designs because I get to work with unusual materials.
As for custom, it's really nice to collaborate with my customers and their ideas, to be able to create something new with someone else. They bring inspiration, and I get to work off that inspiration. That process always pushes me in directions I may not be pushed in normally.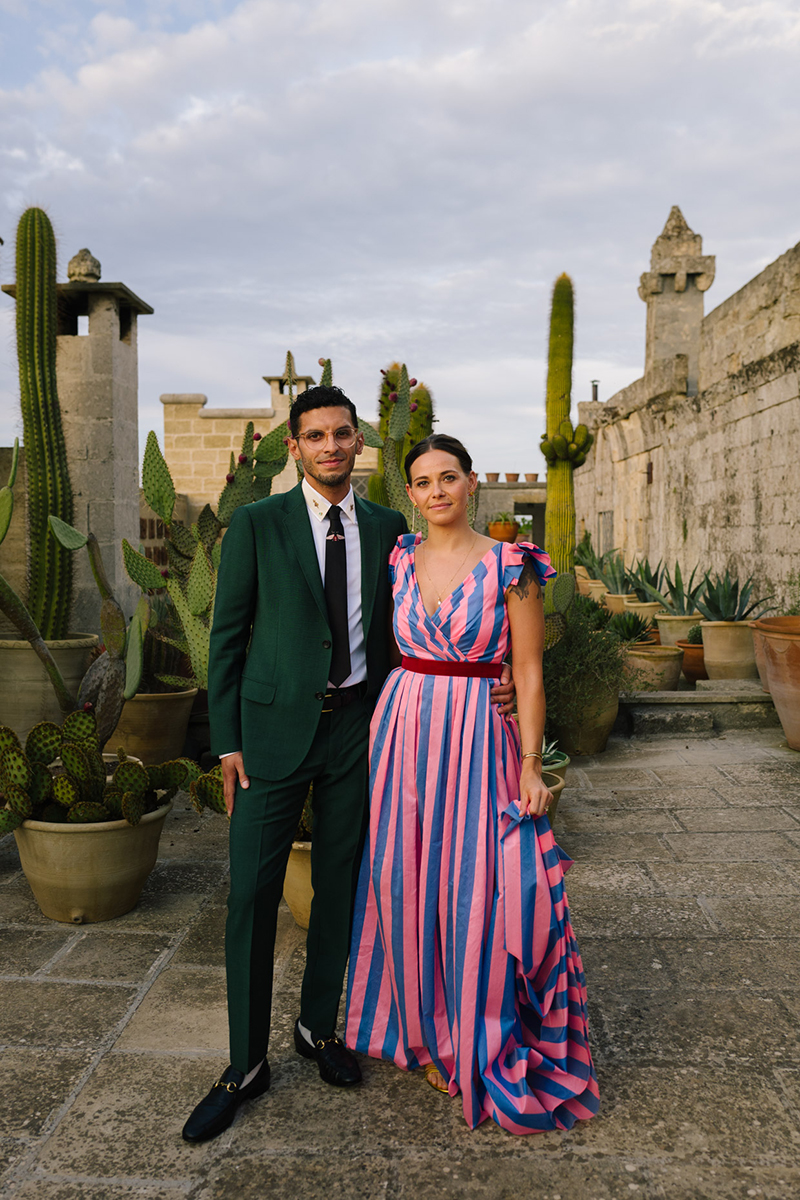 8. Finally, travel and living abroad seems to be a part of your DNA… same might be said of jewelry inspirations… is there anywhere you have your eye on at the moment?

Right now I'm interested in traveling to Turkey. Their ancient jewelry is so cool. A recent memorable trip I took was to Puglia, Italy in September to get married at Il Convento di Santa Maria di Costantinopoli. We spent our honeymoon in Greece.
When it comes to design inspiration, I've reached the point where I don't share my ideas and inspiration ahead of time. My creative process is really long, so I tend to keep my ideas private while I work on things.