Shopping with Dan Rubinstein
October 01, 2019
To know Dan Rubinstein is to love Dan Rubinstein. One of New York's key proselytizers of design and architecture, both local and global, Rubinstein is the consummate polymath, building a career that merges the roles of editor, writer, curator and consultant. Rubinstein has worked with some of the worlds foremost brands; created "This Is Not a House," a much loved Rizzoli title; and worked as a curator conceptualizing such projects as "The Home Front: American Design Now" at the Museum of Arts and Design. Right now, Dan works with Departures Magazine as its resident design expert, where he's tasked with creating the lauded bi-annual Departures Home + Design issues. Dan: let's go shopping.
On his TFP pick's:

John Hogan seems to have an endless number of techniques that elevate glass into something super contemporary and enviable. His smaller one-off pieces are the only design object on my holiday wish list, by the way.
We shot an early example of Sanguino's ceramic seating for the pages of Departures. A few months later, I started seeing them in every apartment I scouted. I'd be lying if I didn't admit his shirtless process shots on Instagram were helping spread the word.
I've been following this Dutchman's work for years now. Lex Pott's early experiments in oxidation were widely imitated. His latest, like this table, appear simple at first but I find his use of materials and color alluring.
Marta Sala Editions is one of the best kept secrets in Italian design. This carpet is a great example of how they elevate conservative pieces with subtle, unexpected twists like these strips of metal.
Of all the American studios working today, I think Snarkitecture is one of those outfits that we'll be referencing a lot in the future. I was fortunate enough to include a seating system of theirs in a show at New York's Museum of Arts and Design I co-curated in 2013. This wallpaper by them is so simple, but really effective.
Chris Wolston's work is getting a ton of attention for smashing together a kind of figurative playfulness with great craft and humor. My gut tells me this lamp of his will be the most collectible, as it's not as in-your-face as the rest of his work. I love it.
You're a veteran of design journalism having edited Surface before working at Departures, among other magazines. What are some of the interiors and architecture trends you feel have held their ground over the years?
Nothing … and everything. I was recently flipping through an old issue of the U.S. edition of House & Garden from 2004 when I worked there. It was surprising to me how so much of the content holds up today. In some ways, the go-go era of production design—google Knoll's 2013 "Tools for Life" collection by OMA—that took place during my Surface years seem the most distant to me in 2019.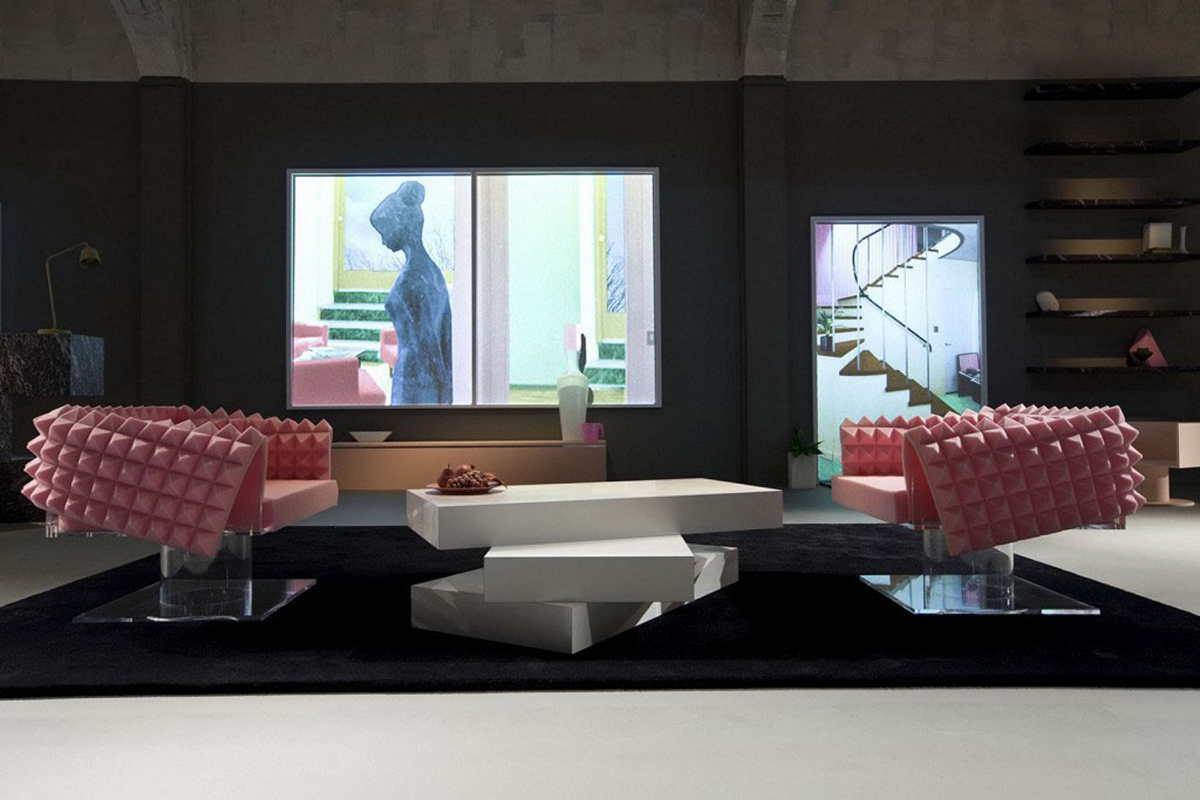 Knoll's 2013 "Tools for Life" collection by OMA
American design, in particular, has grown so much in recent years. Can you name some of your favorite local designers (furniture and product)?
I try not to play favorites, and I'm terrible at choosing. One thing that has definitely changed is the emergence of the gallery market for design, and many of the best young talents now are found there. But is it really design? Or just decorative arts? I wonder if we're living through a new Gilded Age, but we just don't have the distance to realize it yet.
Elsewhere: as a regular fair-goer, what tends to be on your radar during Milan's frenzied design week?
I know it's not posh to admit it, but I really do enjoy my frenzied time at the Salone del Mobile itself. I'm still a sucker for product. In my eyes, what you see there is vitally important. As for what's going on in town, I really enjoyed the new exhibition for emerging designers called Alcova. I discovered it by accident this year, but next time it'll be first on my list.
When choosing residence for Departures Home + Design bi-annual issues, what do you look for? Are there prerequisites to what you choose?
We hunt for intense variety, both in style and location. We're Departures, after all. And I look to be surprised. We tend to avoid what I would call textbook-decorator projects that lack a point of view. I don't truly mind if the project has an anonymous owner, to be honest. A great interior should tell you everything you need to know about the person who lives there without reading a word.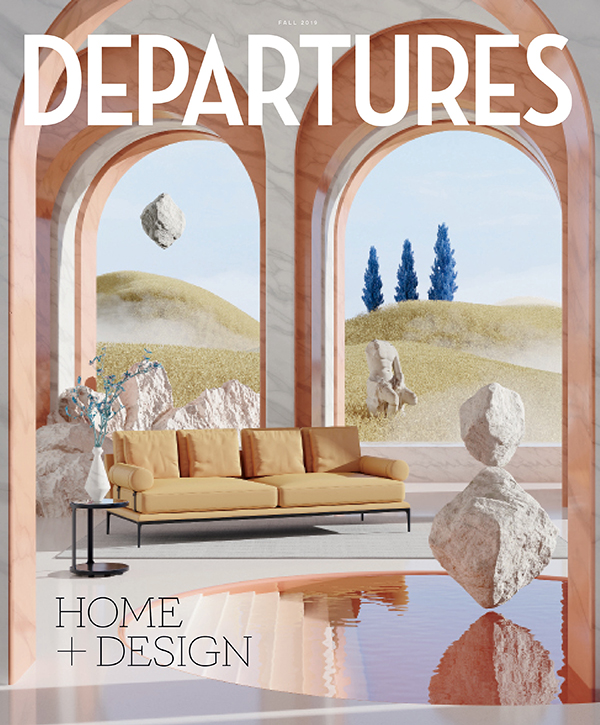 Departures Home + Design Fall 2019 cover.
People seem very divided on New York architecture at the moment (Hudson Yards and the colossal developments happening along 57th street come to mind). What's your assessment?
I'm not as critical as many of my counterparts in the press. Our architecture reflects the moment. It's fast-moving, polarizing, and decadent. And it will have a legacy, both good and bad, for years to come. But it's been wonderful to watch the city become more design conscious over the years. I recently visited MoMA PS1 in Long Island City and was floored by all the development happening. It felt like a completely different city! I find it hard to keep up, but I think the pace of change is finally starting to slow down.
Can we take a peek into your address book? Could you list a favorite design-centric destination in a) Milan b) Miami and c) London (hey, any city will do).
I try to hunt for great spaces anywhere I travel to. After Salone last year, I tacked on a week in Croatia afterwards. While I did the coast like everyone else, I spent a few days in Zagreb where I have family roots. The city is mostly unknown in design circles. A local suggested I visit the state archives, which is housed in what used to be a university library. I was stunned by the building's architecture and interiors: it's done in the Vienna Secession style, which are beautifully intact. So to answer your question: my favorite design destination is the one I haven't been to yet.
Interior of the State Archives in Zagreb.