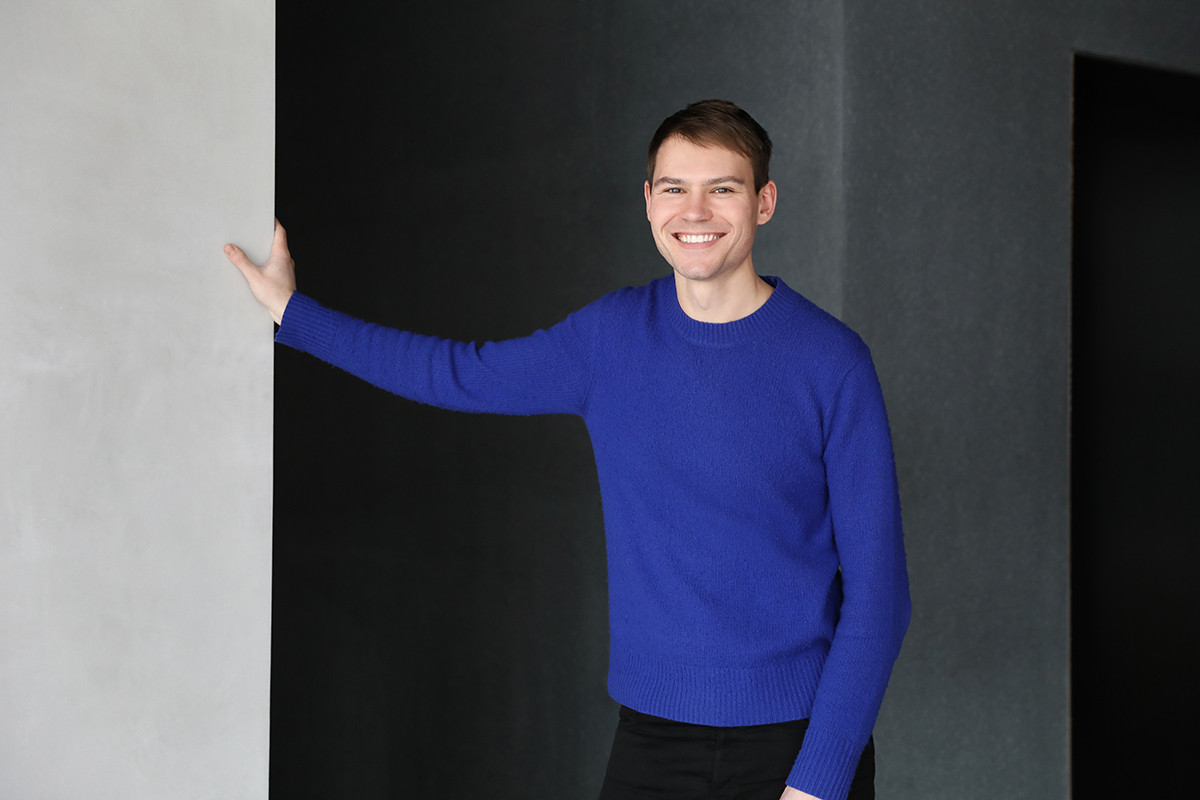 Shopping With: Eric Petschek
January 11, 2019
Anyone with an Instagram account and a passing interest in architecture would certainly be familiar with Eric Petschek (known online as @cb). Early to the 'gram game, Petschek is one of the foremost chroniclers of contemporary spaces - from monumental icons of architecture to under-the-radar interiors projects by emerging talents. Trained in interior design at New York's Pratt Institute, Petschek continues to work on select interior design projects in addition to his prolific photography career. With his perspicacious eye, natural sense of style and impressive knowledge of the architectural world (not to mention the magnificent images chronicled on his much beloved Instagram account) we couldn't think of a better Shopping With companion.
On his TFP selects:

I'm going through a steel tube moment right now, and these Elettra chairs are just classically beautiful.
I'm a sucker for simple, pure geometries.
The Sunday table is so simple and smart.
Anastasiades is to light design as Steve Jobs is to tech... This particular fixture isn't new but its timelessly beautiful.
I always like a furniture piece that makes clever use of simple mechanics to derive its function, like these shelves that are compressed by the tubes here.
1. What drew you to documenting architecture so tirelessly?

I'm ridiculously visual; I'm never happier than when I'm in an extremely well-considered space. My training and background in interior design has allowed me to better understand what it is about beautiful spaces that is so captivating, and in turn I like to document and share these tidbits with others on social media so that they too might be able to pinpoint what makes a space special. I'd like to think that these small, educational moments foster greater design awareness and may even eventually result in a greater demand for good design. And more, beautiful design means I get to enjoy my work as an interiors and architectural photographer even more. (Really, its quite a selfish motivation in the end.)
2. You've certainly traveled a lot for your work… what destination is number one in terms of subject matter?
I can't say definitively, but recent trips to Portugal and Belgium have left me completely in awe of their grasp on what I call "warm minimalism." Both countries executes buildings with an incredibly deft hand when it comes to materiality and light.
Additionally, you've shot some pretty famous buildings… including La Roche… which has been your favorite?
I'm a huge Robert Mallet-Stevens fan, so when I photographed his building Hôtel Martel, currently occupied by Éric Touchaleaume and his Galerie 54, I was in heaven! Galerie 54's inventory of incredible vintage pieces from many of my favorite designers didn't hurt either.
Galerie 54, photography by Eric Petschek
3. Can you talk us through your interior work?

In addition to my interior and architectural photography I still maintain my own small interiors practice. Ever since going to graduate school at Pratt for interior design it has been a love of mine, and it always will be. It would be my dream to continue to take on small commissions while I practice photography, but a lot of things have to align before I say "yes" to a project. With my interiors I always strive for a balance of minimal/clean/cool and interest/textured/warm. I don't have a formula for mixing these, and one project may lean more to one side than the other, but I find the intersection and juxtaposition of these contrasting approaches (I use my two Instagram handles @cb and @cg as metonyms for each, respectively) is extremely rich.
4. What makes an interior a captivating subject for you? ie. What are the components required?
There is no formula per se, but I gravitate toward spaces that lean toward the minimal. These are also the spaces that tend to focus on materiality, architectural details, and natural light, all favorite subjects of mine. From my own practice I know that sourcing quality materials, resolving how they meet, and anticipating how light will interact with them are all hallmarks of thoughtful design. But the most moving quality at the end of the day will always be light.
5. You've been at the forefront of architecture coverage on Instagram… do you think the explosion of this medium is affecting how architects and designers approach their work?
Without a doubt it is! In both good ways and bad. In my eyes, good design has always been naturally photogenic, so the democratization of photography really isn't impacting the upper echelons of design significantly. It's mediocre, mass design that is seeing the most profound impacts. To be clear, these interiors (mostly in the hospitality space) have always been subject to the whims of trends, and I think the explicit inclusion of "Instagrammable moments" is expected and doesn't necessarily detract from the experience—after all their sole purpose is to make for a captivating photo—its more so the clientele that annoyingly vies for the photos that I think dampens the experience. Indeed, photography very much informs my own designs, and my understanding of light and composition undeniably plays a role in how I design space.
6. Can you talk us through some of your favorite designers… architecture, design and furniture…
You're opening up a can of worms here. Too numerous to mention, but some of my favorite firms for their Architecture (capital A-Architecture) include Thomas Phifer and Partners, Allied Works, Rex, Johnston Marklee, David Adjaye, Herzog de Meuron (their museums especially), Jim Jennings, David Chipperfield, and Aires Mateus. I think each of these firms does an exceptional job of marrying hight concept with poetic execution. I'm excited about the work from up and coming local firm P.R.O. For commercial interiors I've recently been very excited about the work of Tacklebox Architecture, Studio Galeon (definitely one to watch!), Sophie Hicks, Studio David Thulstrup, and Bernard Dubois. I have a very long list for residential architecture... but it would include Brent Buck of Buck Projects, Nicolas Schuybroek Architects, 1100 Architects, Russell Jones, JeanCharlesTomas (one to watch), The Archers, Steven Harris, Norm Architects... I could go on. I feel like there are several outfits that are killing it in the interior design department: Liljencrantz Design, Giancarlo Valle, ASH NYC, Studio Mellone, and ACDO. Instead of opining on the furniture space, which I don't follow quite as closely, I'd like to offer a couple people trading on their ability to generate compelling visuals but as of writing are too green to have completed a project. If and when the occasion arises, I'm extremely excited to see what Adam Jordan, Andy Kerstens, Brent Lee, and Conrad Architects produce. Sorry, but this is a field I follow rather closely.