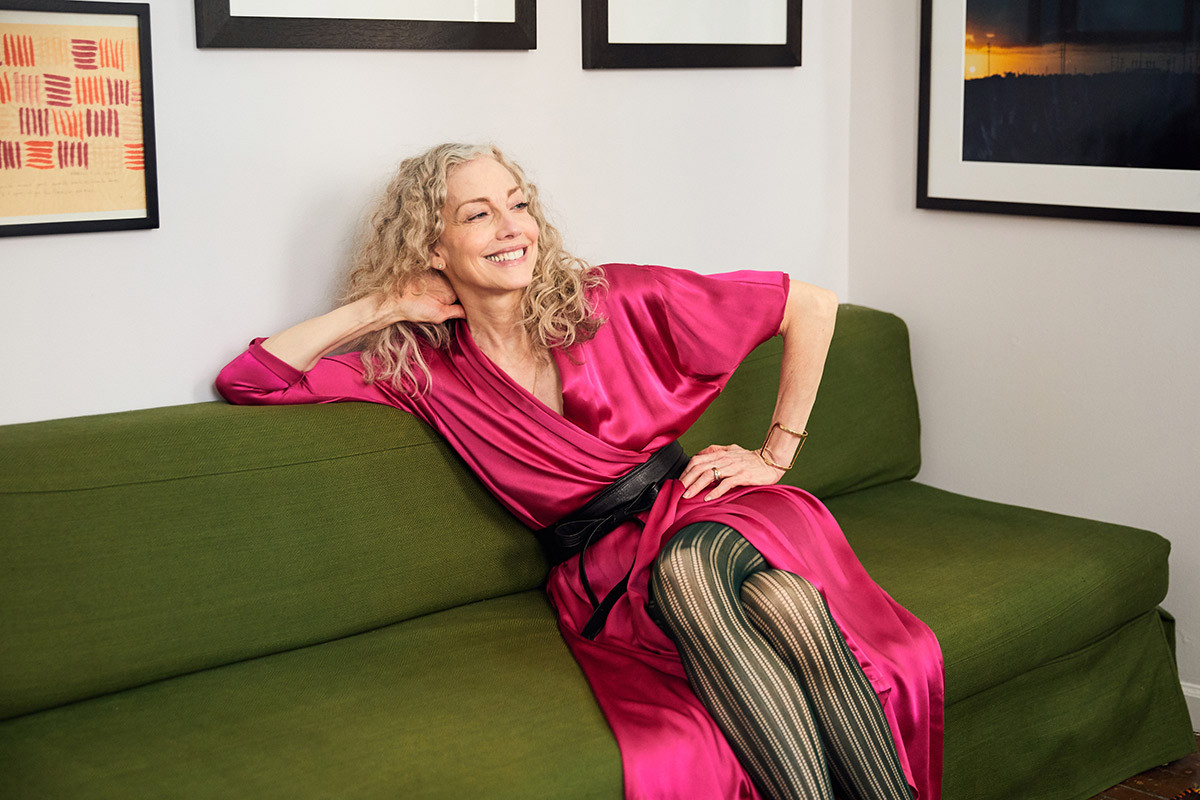 Shopping with Jocelyne Beaudoin
March 20, 2020
A friend and client of The Future Perfect, Jocelyne Beaudoin is one of New York most adored and hardworking creatives. Canadian born and New York based, Beaudoin, a natural polymath, has achieved an impressive career across several industries; as an interiors and set designer, stylist, art director and in-demand model. Firing on all cylinders, Jocelyne's work - and visage - can be found in collaborations with some of the world's leading brands including La Mer, Oribe, Madewell and Christian Dior. We paired up with Jocelyne to discuss her inspiring career, visual inspiration and favorite items within the Future Perfect world.
"The Coval coffee table is so sculptural, I love it. The material is not precious, very earthy.
These beautiful Martyn Thompson little ottomans work as a group or individually. Perfect for small spaces to provide additional seating. The fabric options are gorgeous, too."
"This Treble Sconce is like a gesture and provides beautiful diffused light.
I am specifying a pair of these Geode Sconces on a project I am working on at the moment - for a bathroom where you need strong direct light."
"I love anything Ilse Crawford. This lamp is sweet, not pretentious. Also beautifully executed.
Always love a sculptural chair. Beautiful soft wood."
"This console by Dimore Milano reminds me of keys on a piano. Elegant but not pretentious.
Wallpaper is one of those things that can transform a difficult pokey space in no time. This on is so gestural and bold. Very graphic but organic at the same time."
Styled by Jocelyne Beaudoin, photography by Martyn Thompson Studio.
You're increasingly focusing on interiors for private clients. How does your work in set design and prop styling feed into your interiors?

I'm very aware of the space as an entity. To me a good interior is all about the space and how a body moves through that space. It needs to be fluid. I am also always thinking of how a body fits on a chair, sofa or bed, at a table. In photography, that is always a big concern, especially because models are so tall. I always make my clients come to showrooms to sit on chairs or sofas before committing to a purchase.
How would you describe your general approach to interiors?

It's all about making spaces user-friendly. I like environments that are friendly, fluid, not overly "decorated"and calm. Lighting is very important to me: it has to be reflected on surfaces and become part of the space. I love hidden sources of light that illuminate an entire wall or a ceiling, and that give the illusion of a space beyond. Again, this comes from working as a set designer and creating the illusion of spaces that are not there...
Big Sur residence interior styling by Jocelyne Beaudoin.
Can you tell us about your experience working in music videos? I imagine it was something of a golden era even though budgets were tight?
Actually, budgets were not that tight in those days. Music videos were very formative for me: I did sometimes up to 2 a week for all the rappers in NYC. It was fun and felt very groundbreaking at the time. It was sometimes a little bit dangerous which added to the thrill. I had just finished a 5 year stint as an art director for a very talented production designer. We made about 8 films together. Music videos were my first projects on my own as a designer. It was kind of kamikaze filming. You had to think fast, react even faster. We had a skeleton crew and had to adapt to changing circumstances on the street or in the studio at any moment.
You must have worked in some stunning interiors throughout the course of your careers (whilst working with photographers like Martyn Thompson) do you have any particular favorites?
I once worked in a hotel suite in The Greenwich Hotel in Tribeca, NYC that was a whole apartment complete with multiple bedrooms and outdoor garden and pool, etc... Designed by Axel Vervoordt. It was exactly what I like: not overly decorated, fluid space, beautiful lighting, beautiful fabrics etc...
The Greenwich Hotel by Axel Vervoordt.
As a very visual person you must draw on a variety of influences. Are there any design or architectural heroes that you return to again and again?
For fear of stating the obvious, I can never get enough of Mies van der Rohe. I also love the American architect Gordon Bunshaft, his sense of scale and quiet drama appeals to me. Another architect/decorator I love is the Italian Carlo Scarpa, what a sense of color and textures! As for more contemporary decorators, Ilse Crawford always makes me happy. She also understands this idea of timeless, friendly, comfortable spaces. And, Andrée Putnam never disappoints me: her sense of graphic rigor appeals to me.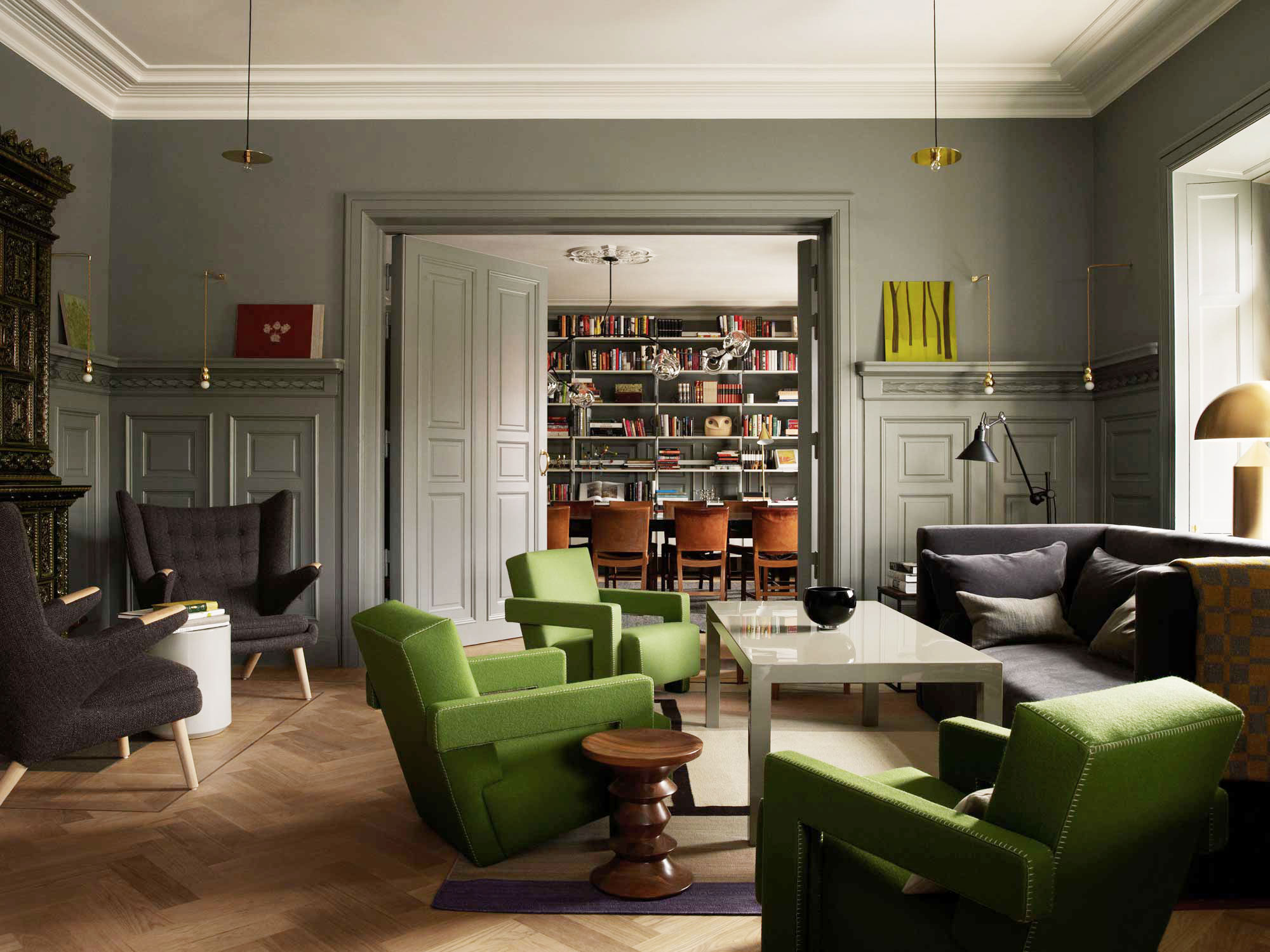 Ett Helm Hotel in Stockholm by Ilse Crawford, photography by Martyn Thompson.
What, in your opinion, is the recipe for a successful interior environment?
A space that is livable, not fussy but pleasing, organized. One that makes the occupant feel happy and comfortable. I prefer more modern spaces, not too cluttered visually. As a production designer, I always tried to make sure the viewer didn't see my hand. I always think it's a fail when a space seems "decorated".
Portrait of Jocelyne Beaudoin.