VIDIVIXI
August 06, 2020
VIDIVIXI's newest collection is now available at The Future Perfect. The design firm collaborated with Douglas Fenton of Major Visual on a surreal digital rendering to bring each piece into our minds and homes. VIDIVIXI and Major Visual had been looking for a reason to collaborate for over a year and The Future Perfect's first online exhibition presented the perfect opportunity. Major Visual specializes in visual narratives centered around interiors, design and architecture. For this show they created a simulated exhibition showcasing the work with each piece displayed separately within a glass vitrine. Referencing traditional museum exhibition format, this display method underlines the high level of quality present in Grattan's work. The presentation plays with scale—the furniture could be lilliputian, at display in the V&A's archives, or it could be gargantuan.
Docked In Rio Bedframe
VIDIVIXI has been putting out hits for the past 6 years. Operating out of their Mexico City atelier, the furniture design firm's primary priority is precision. Each piece is sketched out, workshopped and perfected over a 6 month to 1 year period by the designer, Mark Grattan. After studying industrial design at Pratt in Brooklyn, NY, he cut his teeth at a local woodworkers studio before going out on his own in 2014. This early transition into independence suits him, as no woodworker could truly teach Grattan what he wanted to learn, as it hadn't really been done yet.
20th century design references (usually Italian) surface consistently in VIDIVIXI's collections, but the craftsmanship and mastery of materials is unmatched. Grattan has a way of making wood do things you don't think it should. The humble material is carved and finished to look like something out of the cosmos—rubber, metal, and stone all run through your mind before you arrive at the correct answer. Wood, when worked in VIDIVIXI's studio, is not meant to mimic, but rather to present new possibilities for an ancient resource. Grattan bends the material to his will, creating beautifully finished, sexy, and subtle furniture with thorough structural integrity.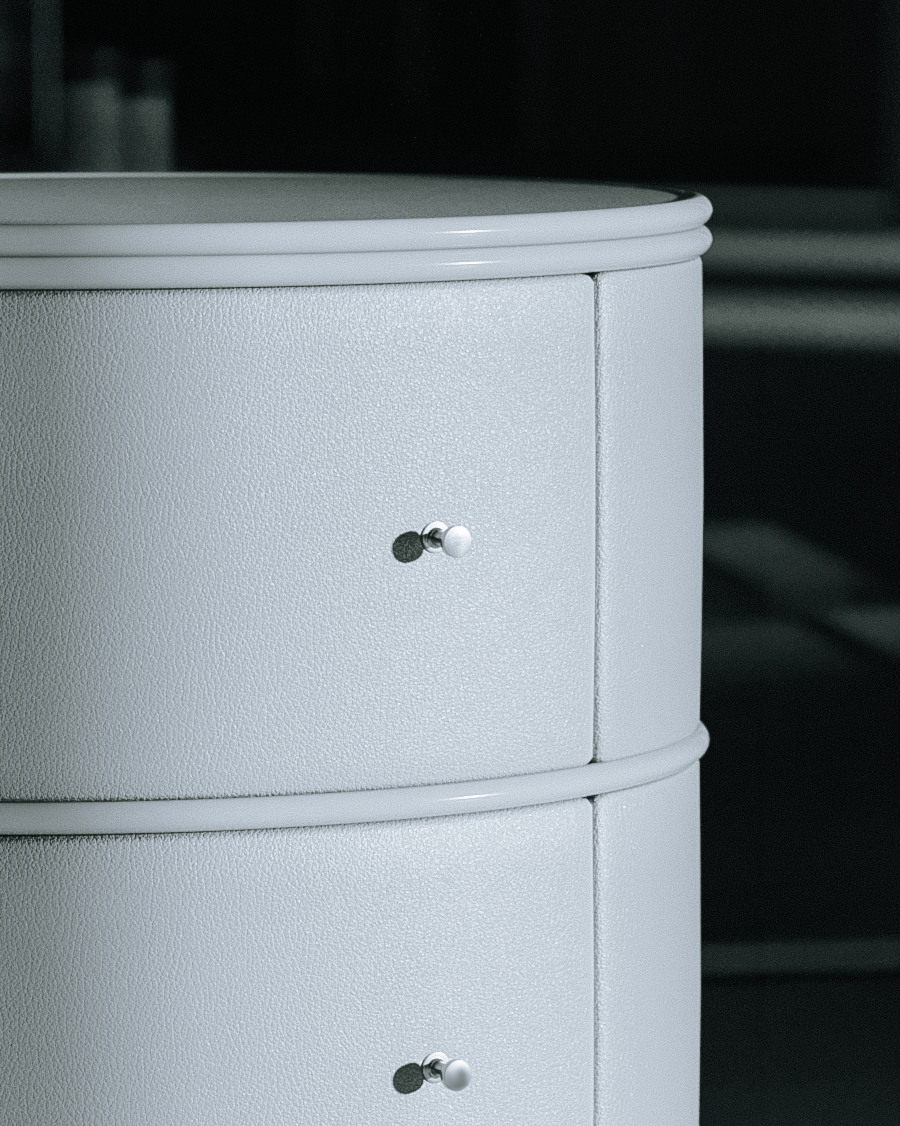 VX Upholstered Side Table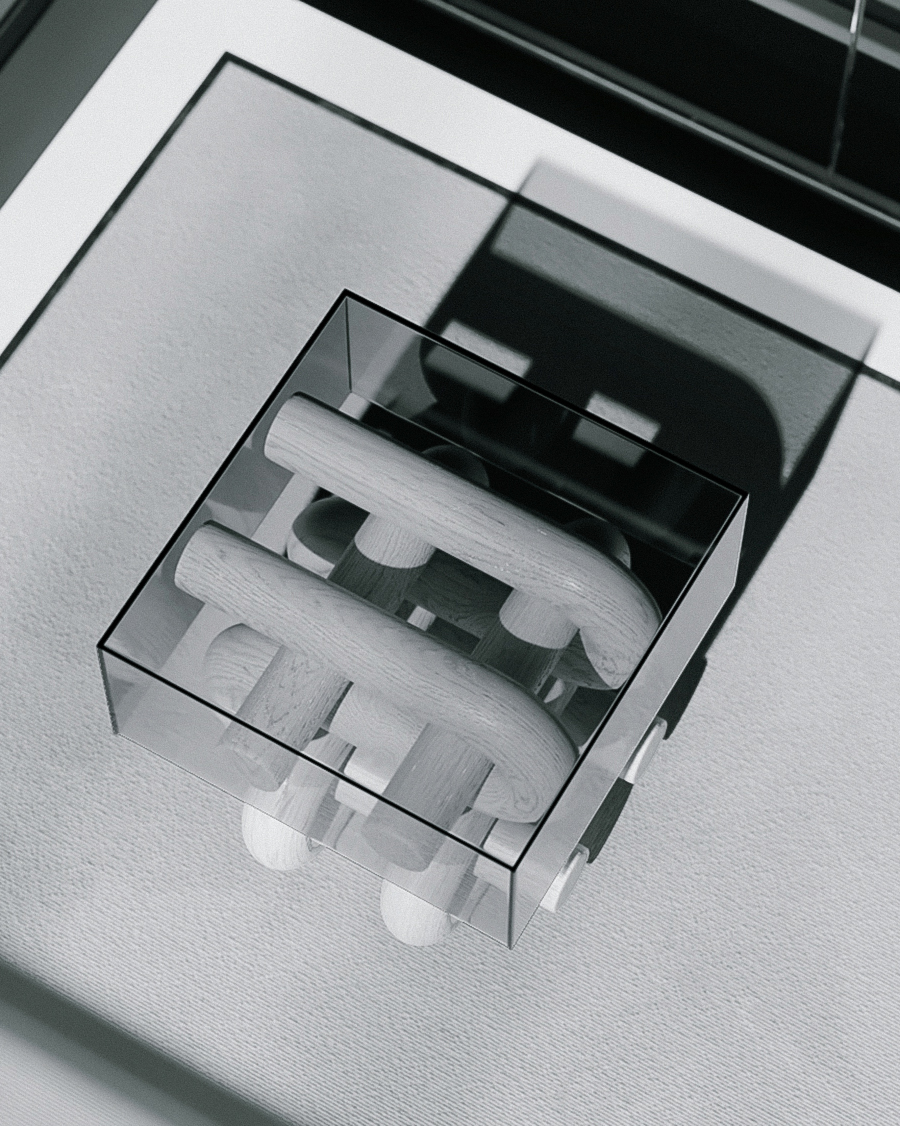 Hermanx Auxiliary Table
VIDIVIXI's most recent body of work, now available through The Future Perfect, includes 7 pieces developed over the past year. Perhaps the most recognizable piece is the newest iteration of VIDIVIXI's Docked En Rio bed, with walnut detailing and velvet upholstery. Only 26 inches at its highest point, the bed sits low to the ground and welcomes the sleeper into it like a structural cloud. Comparably substantial, is VIDIVIXI's Switch Sideboard, which holds six drawers and offers a 94" long surface area. With curved sides and a buttery leather covering, this piece is appropriate only for the most pristine of dining rooms. Grattan also designed two VX Side Tables in the same vein - one of which is entirely mirrored down to its drawer pulls, and another which is upholstered entirely in grey suede. The miniature Hermanx Auxiliary Table has almost perfectly cubic dimensions and hits a different note than the case pieces in the collection. During production Grattan carves and sands the oak hardwood gradually, creating an interlocking base (the construction of which would stump the most experienced woodworker). The table is topped by a smoked glass shadow box, which envelops the top part of the base, creating an even more puzzling form.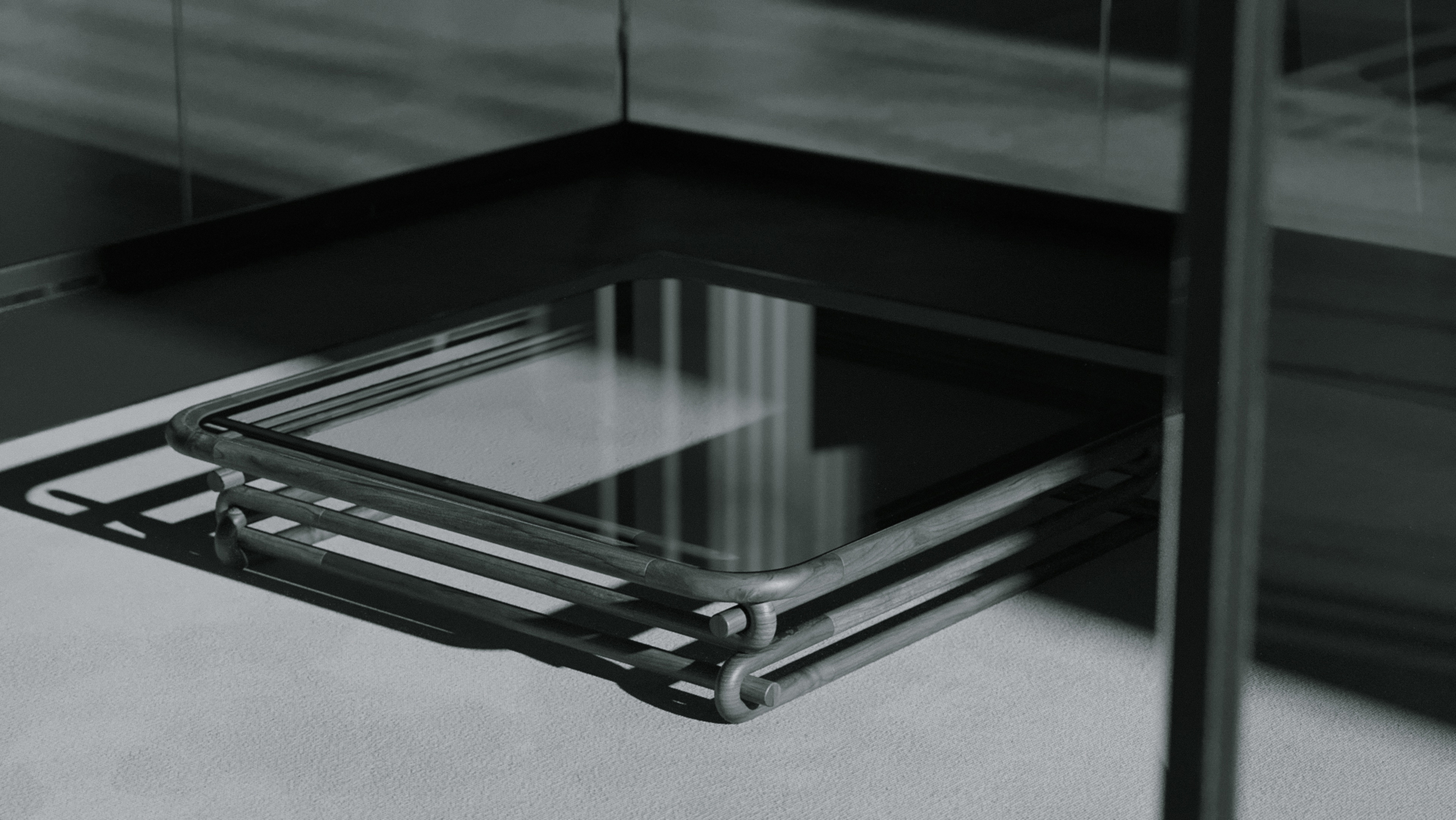 Cafe Con Leche Occasional Table
The Cafe Con Leche Occasional Table sits even lower to the ground than the Docked En Rio bed at 8 inches in height. The scale nods at traditional Japanese dining sets, but the design strikes a firmly contemporary note. The base of this table is walnut with a thin, inset glass top resting seamlessly on the wooden frame. The glass on this and the Hermanx Auxiliary Table afford the viewer the opportunity to admire the construction of the tables base from almost every angle—a detail that is important to Grattan in all his work. (Early on in his career Grattan was moved by a Nakashima quote, which reinforces the importance of designing with 360 degrees in mind. The importance of this idea is constantly with him.) The last piece in the collection is perhaps the simplest. Vivien's Dining Table was named for Adam Caplowe's late mother (he is the other half of VIDIVIXI), and is constructed entirely of oak. It's oval top stretches to 109 inches and it's eight legs are carved with vertical stripes to accentuate the simple form of the base.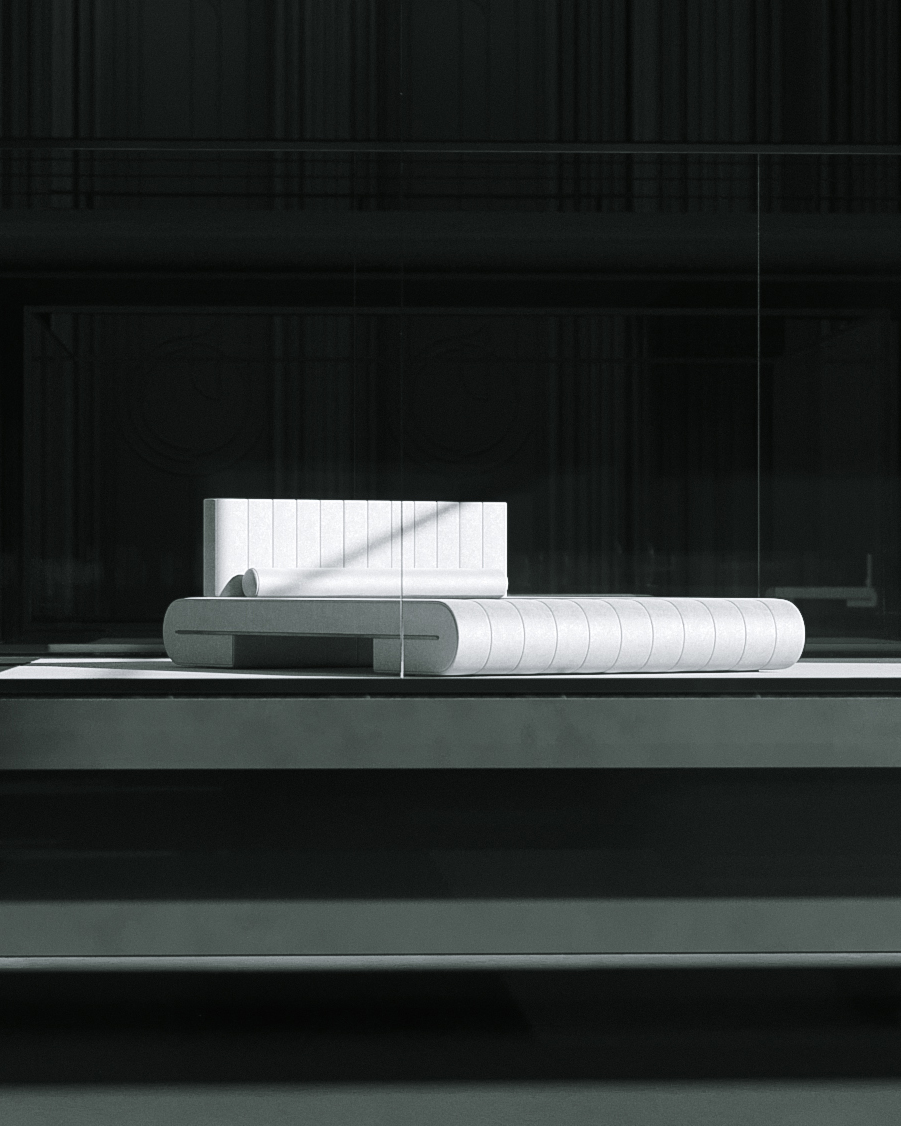 Docked In Rio Bedframe
Switch Sideboard Detail
Cumulatively this collection is cohesive, with repeating materials, treatments and finishes. Difference lies in the function of each item and in the highly intellectual shifts Grattan makes to show the range of his skill and perspective—for instance insetting a single sheet of glass in the occasional table, versus enveloping the top half of a table in a glass box, as he did with the auxiliary table. All of the furniture in the collection can be customized to suit the owner's specific needs, which is a process Grattan particularly enjoys, as it often serves as the catalyst for a new collection. The pieces are meticulously constructed. Not a single corner or joint is off, which is to be expected as Grattan has built a reputation for his unyielding dedication to detail.
Grattan's mind also went to work conceptualizing the feel of this digital exhibition. He lists film noir and old fashioned detective movies as visual reference points for the digital display. A track by the underground icon Kelela, plays over the visuals, underlining the sexy and enticing nature of VIDIVIXI's work. Each piece of furniture is a protagonist in its own situation room, or perhaps a SIM in a world of Grattan and Fenton's making. Fitting, as VIDIVIXI's work can transport whoever encounters it easily into an elevated dimension. Plush, sensual and sharp, this is not furniture that encourages mediocrity; it is furniture that demands elegance from whatever environment it's placed in—digital or otherwise.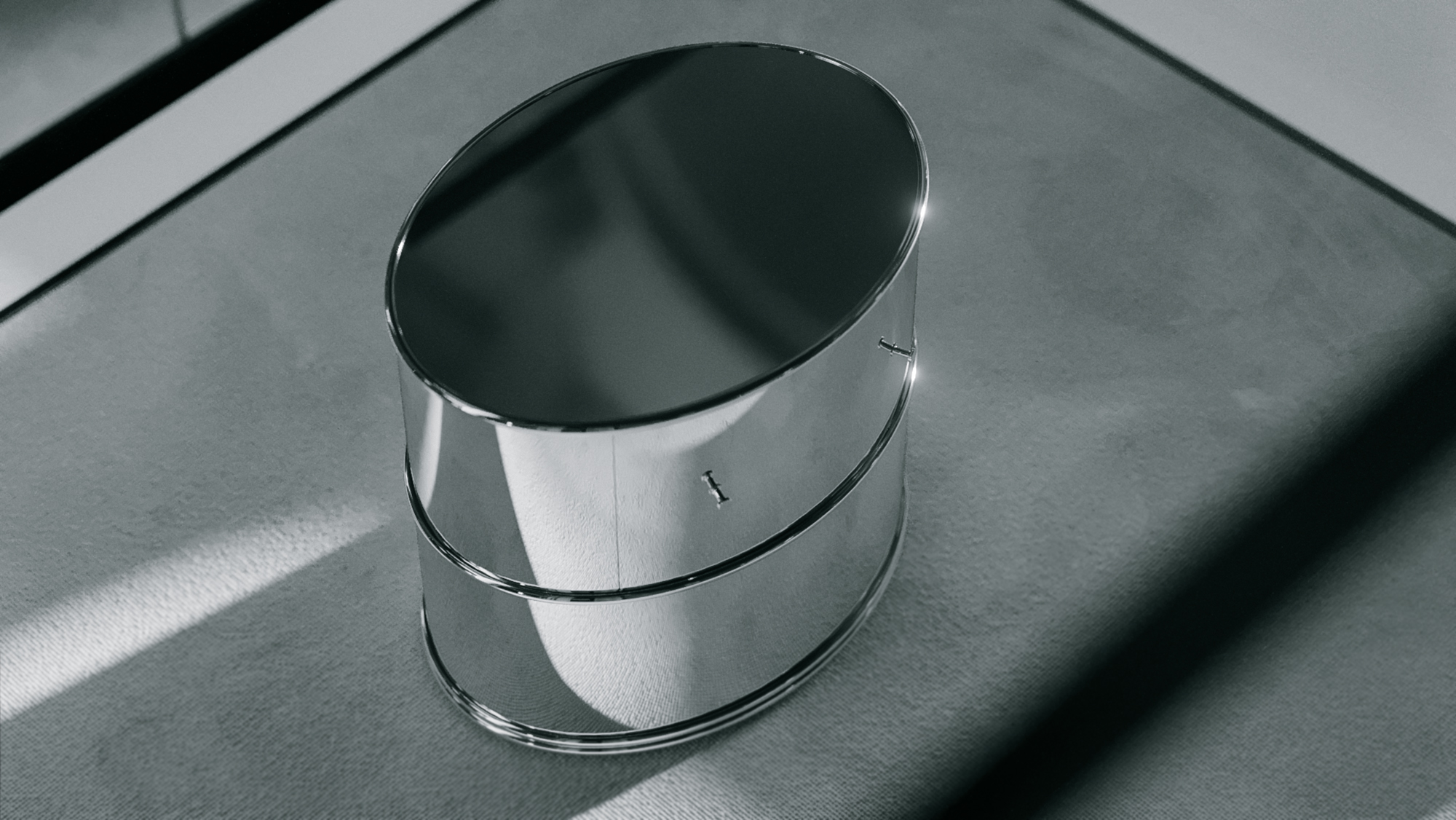 VX Mirrored Side Table